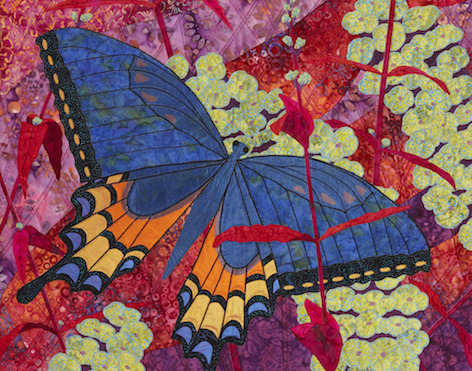 Visitors to Reiman Gardens will enjoy beautiful floral displays on dozens of garden-themed quilts during the fifth annual Garden Quilt Show, Sept. 12-14.
The three-day event features creations by Midwest quilters that depict numerous themes, including garden, outer space (a nod to the gardens' 2014 theme), modern (bold colors and patterns) and UFO, which to a quilter stands for "unfinished objects" (projects are finished for the show). All quilts are judged with a chance for prizes.
Instruction, demonstrations and lectures for both novice and experienced quilters will be held throughout the weekend. A marketplace offering a variety of fiber and fabric art will be held on Sunday.
Show times are Friday and Saturday, 9 a.m. to 4:30 p.m., and Sunday, 9 a.m. to 4 p.m. Admission is $8 ($7 for seniors; $4 for youth; free for members and Iowa State students with ID). Contributed photo.