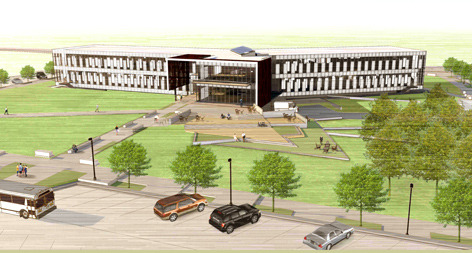 Representatives of Iowa State and the state of Iowa broke ground Sept. 10 for a new economic development core facility at the ISU Research Park. On hand were Gov. Terry Branstad, President Steven Leath and members of the state Board of Regents, who were in Ames for their regular meeting. (See video.)
A 2013 $12 million state appropriation is supporting construction of the 49,000-square-foot facility south of the research park. It will be a one-stop shop for business and industry to seek Iowa State expertise and assistance. It's expected to have space for about 100 employees when it opens in mid-2016.
"This building really will be transformational for the economic development efforts we're making," Leath said. "For the first time, all Iowa State economic development service units will be together, enabling us to provide services in a much more comprehensive and integrated fashion."
Who will be there
Units to be housed in the building include:
Research park administrative offices
ISU Office of Economic Development and Industry Relations
ISU Office of Intellectual Property and Technology Transfer
ISU Research Foundation
Center for Industrial Research and Service
Pappajohn Center for Entrepreneurship
Iowa Small Business Development Center
Cultivation Corridor regional economic development project
Vermeer plans to expand
Vermeer Corp. recently announced that it will build an applied technology hub in the ISU Research Park.
"This facility provides us with the opportunity for a much more effective way to communicate and work together," said research park director Steve Carter. "It will be a huge step forward."
Carter said the new facility also is a big step forward in expanding the research park.
Phase three at the park
The research park currently has nearly 60 tenants with more than 1,300 employees and a total payroll of more than $70 million. A third phase at the research park calls for developing another 200 acres and growing the park's employee base to more than 6,000 people.
"The economic development core facility will be the signature building of the research park's phase-three development," said Michael Crum, vice president for economic development and business engagement. "It will be the gateway to campus for business and industry seeking technology or business expertise. And it's going to be a catalyst for a lot of greater things to come."