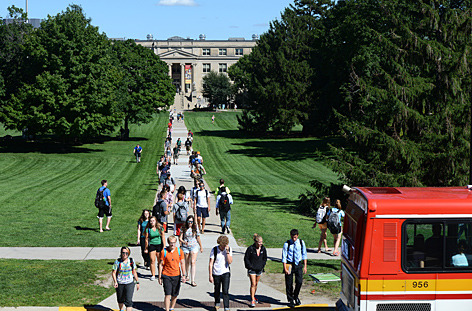 Iowa State's fall 2014 enrollment of 34,732 is the largest in school history, an increase of 4.5 percent (1,491 students) over the previous record of 33,241 in fall 2013.
It's the sixth year of record enrollment and the eighth consecutive year of growth at Iowa State. The student body represents every Iowa county, every U.S. state (plus the District of Columbia, Guam, Puerto Rico, Virgin Islands and Marianas Islands), and 110 countries.
More Iowa undergraduates are attending Iowa State than ever before: 18,478 students, or 64 percent of ISU's undergraduate student body, are Iowans. Overall, 20,260 Iowans attend ISU, also a record.
"This is an exciting time to be at Iowa State," said President Steven Leath. "We're growing because more students want to be here. They see the value of an Iowa State education – from our degree programs to our learning communities to all the ways they can get involved and be part of something special. We are retaining close to 87 percent of our first-year students -- far above the national average -- and that demonstrates how we serve students from the moment they arrive until they graduate."
Overall, 94.9 percent of Iowa State graduates are either employed or pursuing further education within six months of graduation.
Iowa State's freshman class of 6,041 students includes 3,509 (58.1 percent) Iowa residents. Each year, Iowa State enrolls more Iowa high school graduates as new freshmen than any other four-year school.
By the numbers
Iowa State's student numbers set records in the following categories this fall:
Record undergraduate enrollment of 28,893, an increase of 1,234 students from last fall's record of 27,659.
Record graduate enrollment of 4,950, an increase of 240 students from fall 2013, and 227 more than the previous record set in 2010.
Record professional (veterinary medicine) enrollment of 592, an increase of six students from fall 2013 and four more than the previous record set in 2012. (Veterinary medicine enrollment is controlled.)
Record international student enrollment of 3,980, an increase of 183 students from last fall's record of 3,797. The overall number also reflects a record in the number of international undergraduates: 2,202.
Record diversity. Total U.S. multicultural and international enrollment is 8,045, or 23.16 percent of the student body. (The previous record set in fall 2013 was 7,486, or 22.52 percent of the student body.)
U.S. multicultural enrollment is 4,065 (11.7 percent of total enrollment), a new record and an increase over last fall's 3,689 students.
Record U.S. multicultural enrollment among new freshmen: 802 students, up from last year's record of 782. Multicultural students represent 13.3 percent of new freshmen at Iowa State.
Record total Iowa resident enrollment of 20,260, up 410 students from last fall and 236 from the previous record of 20,024 in 2001.
Record Iowa resident undergraduate enrollment of 18,478, up 469 from last year's record of 18,009.
Record nonresident new freshman enrollment of 2,240, up 52 students from last year's record of 2,188 students.