Joyce Garnett, university librarian emeritus at Western University in London, Ontario, has been named interim dean of the University Library.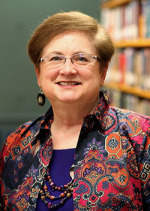 Garnett has 40 years of experience as a librarian, including 33 years teaching and 34 years in leadership positions both at universities and in the private sector. She was selected in an international search.
As interim dean, Garnett will provide leadership for the library's operations, build culture and increase connections across campus, and work with faculty and staff to develop strategic and action plans to move the library forward.
"Joyce is a proven leader with a reputation for building professional relationships, grasping the big picture, and understanding today's digital environment," said Jonathan Wickert, senior vice president and provost. "I am excited by the teamwork and planning skills she's bringing to Iowa State."
Library faculty and staff welcomed Garnett at a Sept. 4 reception.
"Iowa State is a premier land grant institution, and I am excited to begin my own adventure in Ames," Garnett said. "I look forward to working with the library's faculty and staff, and reaching out to our colleagues across campus, to better understand the information needs related to their research and teaching."
Garnett holds bachelor's and master's degrees from McGill University, Montreal. Her career has included positions at Western University, Laurentian University, McGill, Pratt & Whitney Canada, Concordia University and the University of British Columbia.
"Joyce is an excellent choice to serve the library and university," said Ed Goedeken, professor, collections coordinator and member of the library's transition planning committee. "She earned the unanimous support of our committee, and we're excited to work with her through the transition."
Garnett has been active in professional associations throughout her career, holding leadership positions at the local, regional and national levels. These include president of the Canadian Association of Research Libraries, board member for the Association of Research Libraries, chair of the Ontario Council of Libraries and board member for the Canadian Research Knowledge Network. She continues to serve on several national library committees.
The search for the library's next permanent dean will begin this fall.