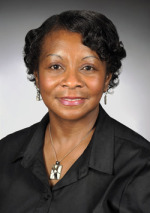 Gloria Jones-Johnson, University Professor of sociology, has been named a faculty fellow in the senior vice president and provost's office. She began her two-year, part-time appointment in August.
Faculty fellowships are designed to provide leadership and project management experience to faculty who are interested in, or aspire to, leadership positions at Iowa State. In her new role, Jones-Johnson will coordinate professional development initiatives for department chairs.
Jones-Johnson, who joined Iowa State in 1986, is an expert in social inequality and the workforce and currently directs the women's and gender studies program. She has been active in numerous diversity-related groups and committees, including the Task Force on Women as Department Chairs, Women's Leadership Consortium, McNair Scholar Advisory Board, Minority Faculty Recruitment Task Force, Minority Graduate Student Council and the University Committee on Women.
Cinzia Cervato, Morrill Professor of geologic and atmospheric sciences, is in the second year of a faculty fellowship in the provost's office. Cervato's work focuses on faculty onboarding and professional development. University Professor of political science and of statistics Mack Shelley, who also had been serving as a faculty fellow, was named chair of the political science department last month.