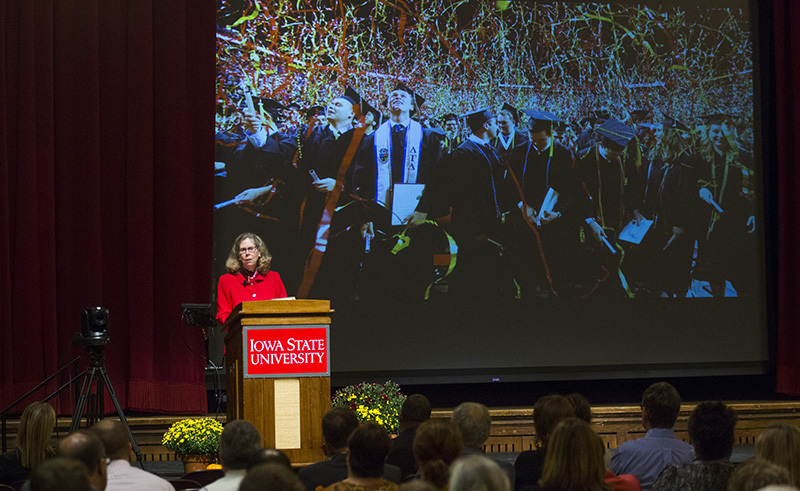 In her first state of the university address since her installation last fall, President Wendy Wintersteen celebrated Iowa State's accomplishments and looked ahead to its coming challenges and opportunities. In a speech highlighting a wide range of topics, she emphasized innovation as an essential institutional initiative that will enhance Iowa State by boosting creativity, collaboration and leadership.
"This is truly going to be a way that we change how students, how parents, how Iowa thinks about Iowa State University," she said.
While she touched on the university's existing programs to support startups, an effort by deans to integrate more entrepreneurship into each college's curriculum and the pitch contest held at the university's state fair exhibit last month, Wintersteen said the Student Innovation Center opening next semester will be key to Iowa State's identity as a place for creation. The opening of the interdisciplinary facility will be accompanied by donor-funded branding and marketing.
"At the end of the year and the beginning of next year, you're going to start to see a campaign that is going to lift up Iowa State and the work it's doing in this area in a way that I think you won't believe," she said.
Here's what Wintersteen shared about several other topics during her 40-minute speech Sept. 11 in the Memorial Union Great Hall:
Diversity and inclusion
Wintersteen aims for Iowa State to be the most welcoming and inclusive land-grant university, and she singled out several efforts to improve diversity and inclusion, such as the Connect Four program in the College of Human Sciences and the LEAD IT program in the College of Agriculture and Life Sciences.
Reports following up on the 2017 campus climate survey are now posted on the campus climate website and identify numerous action items, she said. Those underway include a task force studying how to improve the availability and affordability of high-quality child care and development of a civility campaign to complement the university's principles of community.
"I want to thank all of you for the work you do in this area. And I want to encourage you all to do more. This is an important goal for us. We all need to engage and every day think about how we welcome someone who looks different than us, somebody who dresses different than us, somebody who is from a different state, nation, around the world. Let's reach out a hand of welcome to everyone," she said.
Research and scholarship
"An excellent university is the product of an outstanding faculty," Wintersteen said, quoting former President Gregory Geoffroy, before recapping faculty achievements in the past year:
Seven were named American Association for the Advancement of Science Fellows
Six won grants through the National Science Foundation's Faculty Early Career Development Program (CAREER)
Three won Fulbright awards
Two were named National Endowment for the Humanities fellows
Geetu Tuteja was named Iowa State's first Pew Scholar in the Biomedical Sciences
Patricia Thiel was inducted into the American Academy of Arts and Sciences
Costas Soukoulis was inducted into the National Academy of Inventors
Debra Marquart was named Iowa's poet laureate
Wintersteen also noted that ISU faculty set a record for external research funding ($261 million) and secured a total of 34 U.S. patents in 2018, ranking 69th among universities worldwide, an increase from 83rd the year before.
Infrastructure
Wintersteen commended several recently completed or ongoing building projects, including the Advanced Teaching and Research Building, the expansion of the Gerdin Business Building, the renovation of Brunnier Art Museum, the Student Athlete Sports Performance Center and the Sycamore Falls project in Reiman Gardens.
More needed infrastructure projects are on the way, she said. Groundbreaking will be held Friday for a $21.2 million feed mill and grain science complex. A new facility for industrial and manufacturing systems engineering and renovations at Ames Laboratory are under discussion, she said.
Student success
All four students Iowa State nominated a year ago Goldwater Scholarships -- the maximum allowed -- were accepted to the program, the premier undergraduate scholarship in mathematics, natural sciences and engineering, Wintersteen said. Iowa State also had two Udall Scholars and a Fulbright Award recipient in the past year.
On a whole, students also are doing well. A record 6,892 undergraduates earned degrees in 2108-19, and students are graduating in 4.4 years on average, the fastest clip in two decades, she said.
"Our students excel. We could go on and on all day telling stories about the success of our students," she said.
Enrollment and funding
While another decrease in enrollment this year will have a budget impact, Wintersteen said leaders have been planning for it and tuition increases will help address shortfalls. She said enrollment remains robust and provides a relief from record student populations a few years ago, which put stress on facilities, faculty, staff and students.
She touted the success of the Forever True fundraising campaign, which has raised $1.2 billion of the $1.5 billion it is aiming for by summer 2021. Those gifts provided $18 million in student scholarships last year and funded 209 endowed chairs, professorships and faculty fellowships.
Iowa State's legislative request, set for state Board of Regents approval next week, would include a $7 million increase to general operating appropriations. Wintersteen vowed to keep improving how Iowa State shows legislators it's an investment, not a cost.
Workday and improved service delivery
While she acknowledged it has been a trying period of change, Wintersteen said the transition this summer to Workday and service teams for handling HR and finance transactions was long overdue. Legacy systems were aging and vulnerable, she said.
"We had been living on borrowed time for a very long time," she said.
The service teams formed by the improved service delivery (ISD) initiative were necessary because, "We needed individuals who could truly become, over time, experts in how to run this very expensive system we had purchased," she said.
Project leaders have been gathering feedback to address what Wintersteen said consultants predicted would be an "adoption trough," a period after the system's launch devoted to solving complications the new software presents.
"We want to continue to listen and hear how it is going and what we need to be doing differently. We can celebrate some great successes in how Workday has been implemented. We can also talk about the things that haven't worked like we hoped they would," she said.
It will probably be about six months "before we feel good" about the move to Workday and ISD, she said. But over time, it will help make the university more efficient, saving money.
"If we can better manage our budget, we can free up resources for important priorities. My top priority continues to be how we provide competitive salaries for our faculty and staff," she said.