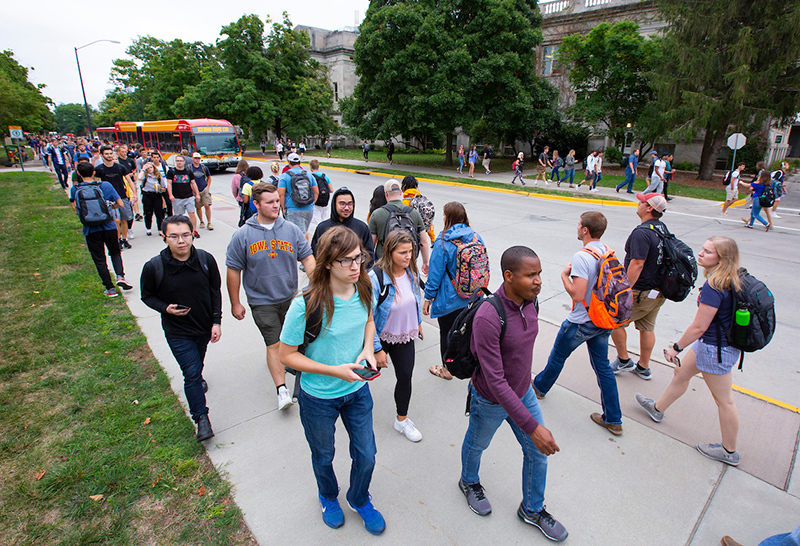 Iowa State's fall enrollment of 33,391 reflects the state's largest freshman class and more Iowa undergraduate students than any other university.
"We have one of the most beautiful campuses in the world located in the nation's best college town," said President Wendy Wintersteen. "At ISU we have a 95 percent post-graduation placement rate, which speaks to how we empower students to reach their full potential through exceptional teaching and research programs and a growing culture of innovation and entrepreneurship."
Enrollment by college
Agriculture and Life Sciences: 4,821
Business: 4,820
Design: 1,905
Engineering: 8,778
Human Sciences: 4,124
Liberal Arts & Sciences: 7,876
Veterinary Medicine: 599 professional, 149 graduate
Interdepartmental units and graduate undeclared: 319
The largest freshman class in the state (5,597) is part of 28,294 undergraduates on campus. The number of first-year students from Iowa high schools is up slightly from last year, 3,380 compared to 3,362. Nearly 60 percent of undergraduate students -- 16,865 -- are from Iowa. With both undergraduate and graduate levels, there are 18,341 students from Iowa.
Enrollment strong following record graduation
A record 6,892 undergraduates earned degrees in 2019, surpassing an all-time high set the previous year. The four-year graduation rate is also a record, with the average time to degree for all students at 4.4 years. Laura Doering, associate vice president for enrollment management and student success, said record graduating classes are a factor in Iowa State's changing enrollment.
Demographic shifts in the number of students going to college, fewer international students attending U.S. universities and more prospective students entering the workforce directly out of high school also have affected enrollment. Fall enrollment is down 1,601 (about 4.5 percent) from 2018.
Smart, diverse, engaged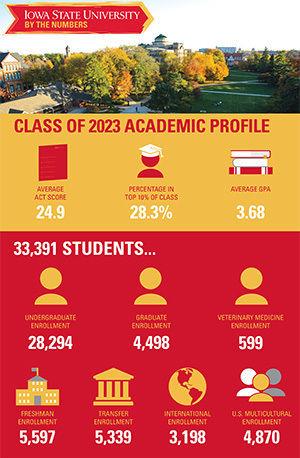 Iowa State's freshman class set a record for average high school rank (77.68), average GPA (3.68) and percentage in the top 10 percent of their high school class (28.4 percent). The student body represents all 99 Iowa counties and all 50 U.S. states (plus Washington, D.C.; Guam; Puerto Rico; the Virgin Islands and Mariana Islands), as well as 115 countries. It's also more diverse -- 15.3 percent of undergrads are multicultural students. There are fewer international students on campus this fall -- 3,189 compared to 3,671 in 2018.
Doering says ISU students are actively engaged. In fact, the Wall Street Journal/Times Higher Education 2020 College Rankings recently ranked Iowa State in the top 50 for student engagement. More than 41 percent of undergraduates participate in two or more high-impact experiences during their time on campus including 6,176 in learning communities, 440 in the first-year Honors program and 400 in undergraduate research, annually. An additional 1,800 students study abroad each year and 10,528 compete in intramural sports.
"Our students have so many opportunities in the classroom as well as learning that happens outside of the classroom," Doering said. "They have an amazing experience here at Iowa State and then go on to have great success with the next steps in their lives."