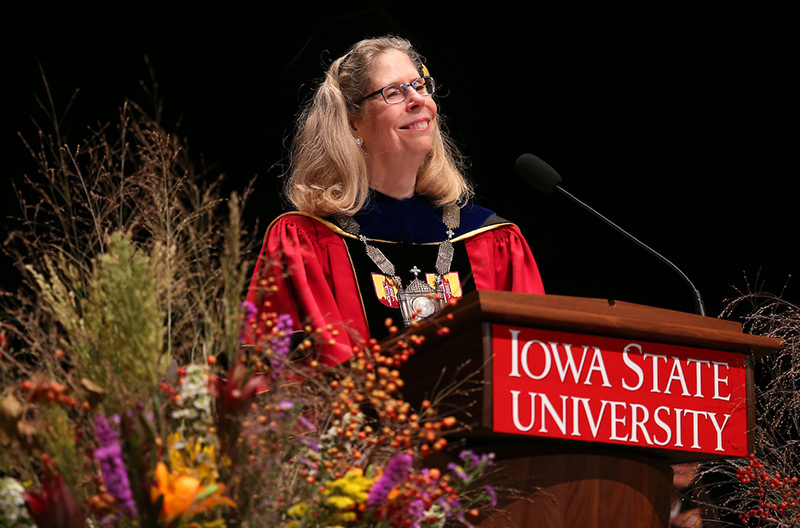 Infusing an Iowa State education with entrepreneurism, recognizing and rewarding excellent faculty and staff, innovating to become a more efficient enterprise and improving the student experience in every college are among the items on President Wendy Wintersteen's to-do list. But above all, she promised to work hard to make Iowa State a model of inclusivity among colleges and universities.
Wintersteen laid out the goals of her presidency during the Sept. 21 installation ceremony in Stephens Auditorium. Her speech referenced numerous milestones in Iowa State history as well as her history at Iowa State.
Noting that she is a product -- as extension staffer, doctoral student, faculty member, college administrator and now president -- of a university with inclusiveness "built into its DNA," Wintersteen pledged to "nurture this ideal and energize it for all those who come after me. It is one of my top priorities."
Catch up
She praised the university's founders as practical idealists for opening higher education to all races, genders and classes, at a time when just four colleges permitted equal admission to women.
"My passion for Iowa State continues after these 39 years because I know how it transformed me," she said.
Entrepreneurs
Wintersteen said she wants "a spirit of entrepreneurism" to become a significant component of the Iowa State brand.
"I intend to establish a vibrant entrepreneurial ecosystem where innovating is built into the curriculum, and where innovations and entrepreneurial ideas come from our students, faculty and staff, and they receive appropriate support to move these ideas forward."
Borrowing from successful degree programs in the Ivy College of Business, Wintersteen talked about building undergraduate entrepreneurial programs in the other colleges that help prepare students for an economy of rapid change.
To have an impact, she said Iowa State must both recognize and support innovation. She said she will assist with "the next step" for faculty, staff and students, for example, patents licensed to industry or business startups.
Supporting faculty, staff and students
Wintersteen said she "will make it a priority to recruit, nurture and retain excellent faculty." That will take additional funding for state-of-the-art facilities, graduate assistants and research programs. The goal, she said, should be nationally ranked departments in each college.
Noting the university's rapid enrollment growth over the last decade, Wintersteen said it's critical to "provide the tools and resources that enable our faculty and advisers to touch and inspire all of our students."
"As ISU reaches for greater heights, I will reward the excellence of our teachers and the success they achieve in the classroom," she said.
She also wants to increase the number of students whose education includes "high-impact" learning experiences such as extended field trips and studies abroad, and to find new ways to improve graduation rates. She pledged to work with ISU Foundation professionals to raise more dollars for completion grants -- university funds awarded to undergraduates within a semester of completing a degree "to get our seniors across the finish line."
Innovating for excellence
But in the current higher education funding environment, Wintersteen said innovation needs to be part of the ticket to excellence, and she said her administrative team is committed to constant innovation. Examples of what that could look like are:
Improving the university's administrative efficiency
"Pruning away" less efficient programs or initiatives to invest in more productive ones
In addition, she pledged to identify government partnerships, public-private partnerships, and global and venture capital partnerships "to grow this great university and achieve our fullest potential."