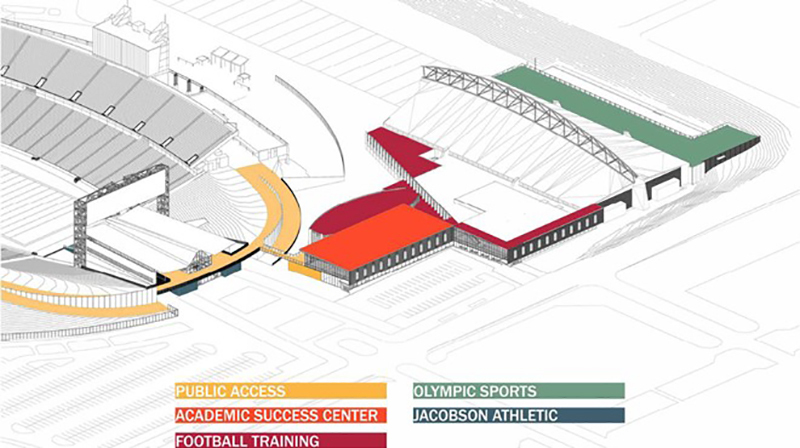 Busy student-athletes would have a one-stop shop to study, fuel up and meet with coaches and other athletics department staff at a new facility proposed northwest of Jack Trice Stadium. Added academic and nutritional space is a big piece of the $65-$80 million in renovations and construction initially approved by the state Board of Regents at its April 12 meeting.
About 20,000 square feet of a new performance center would be for academic support, more than doubling the size of the Rod and Connie French Athletic Academic Center on the second floor of the Hixson-Lied Student Success Center. The project's nutrition component likely will devote about 10,000 square feet of space to food and beverage service, said Chris Jorgensen, senior associate athletics director for operations.
Improving those services keeps Cyclone athletics programs competitive with peer schools while taking recent NCAA rule changes into consideration. Four years ago, the NCAA began allowing Division I athletics programs to provide unlimited meals and snacks.
"What we do for our student-athletes from a nutritional standpoint has become a differentiator," Jorgensen said.
Beginning in the 2017-18 school year, new NCAA rules also limit time demands on student-athletes. Having academic help plus supplemental food and beverage on-site with plenty of parking near the athletics department's main offices -- including compliance officials and coaches for most sports -- will make those resources more convenient, Jorgensen said.
"We feel it's an efficient delivery method that will free up time for student-athletes," he said. "There's a lot of synergy with that location."
The existing academic center opened on the east edge of campus in 2007, but much has changed since then. Staff offer additional programming that wasn't contemplated a decade ago, such as life skills training that includes interview prep, career placement and volunteer outreach, Jorgensen said. More space will mean fewer scheduling conflicts for tutors and study groups, reducing late-night sessions.
"It's probably getting used much more heavily than we even anticipated at the time, and I think it bears out in the results," Jorgensen said of the French academic center. The proposed center is "really taking what we have now and right-sizing it in a facility."
The academic center would be on the east side of the Bergstrom Football Complex, also set to be expanded under the project. The nutrition center could be inside the academic center or adjacent to it, Jorgensen said.
"We're in the early stages of design," he said.
Additionally, plans call for constructing a new Olympic sports center west of the Bergstrom Indoor Training Facility and renovating the stadium's concourse and hillside seating on the north end. The project won't add any seating capacity or remove the grass-covered hills, Jorgensen said. The Olsen Building would be torn down to make way for a grand plaza entrance to the stadium.
The project's timeline depends on fundraising. About $25 million in donations is needed to move forward. Once financing is arranged, final approval from the Board of Regents is required.