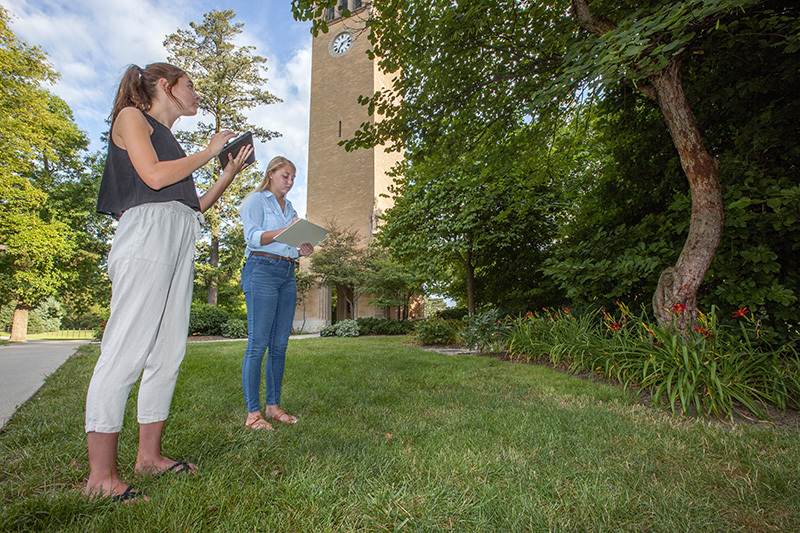 Iowa State's canopy of 12,500 trees gives the campus a park-like feel. A tree canopy inventory -- which doesn't include ISU's arboretum, wooded areas, farms, Reiman Gardens or Veenker golf course -- is being updated using geographic information system (GIS) technology.
Chris Strawhacker, campus planner in facilities planning and management, said the digital mapping will replace an outdated campus landscape map currently available.
Ash tree threat changes landscape
ISU's preparations for an invasive and destructive beetle included removing and replacing a significant number of ash trees from the campus landscape.
"We've traditionally done our tree inventory using both an Excel spreadsheet and AutoCad [computer-aided drafting software]. The problem is that the drawing doesn't really tell you much information about the trees -- there's just a circle and a little label telling you what the tree was identified as," he said.
The landscape map divides the campus into 65 sections. Each summer, student employees updated a few sections at a time, looking for what was planted, removed or dead. Once a section of the map was updated, the students counted each species of tree and updated the inventory spreadsheet to reflect the changes.
"It worked pretty well, but it was cumbersome," Strawhacker said.
Digital solution
A few years ago, Strawhacker started looking for a better way to map the canopy and include more information about the trees. GIS was a possibility and wasn't new to FPM, which used the system for its project to establish physical addresses for more than 650 campus locations. Strawhacker also helped lead that project.
"I went to a conference and talked to an arborist from Montana who said their crew goes out with a [GIS] app on a tablet and does the updates right in the field," Strawhacker said.
So, for the past five years -- section by section -- student employees updated the old maps and entered the same information into a GIS map until all 12,500 trees were recorded.
The GIS map shows the Latin and common names of each tree, and can record known details -- for example, when it's planted, which nursery it's from and its canopy diameter, which can be updated as it grows. More specifics, such as tree health and care, can be added.
Info on the go
With GIS, the information moves with the tree. This was the case for several trees at the construction site for the Gerdin Business Building's addition that were relocated to the landscape outside Hilton Coliseum.
"Sometimes when there are new building projects, we have trees that are healthy and in great shape that we'll transplant instead of cutting down. We can just move that tree on the GIS map and all of the information will go with it," Strawhacker said.
Campus services crews help with the effort by inputting GIS information when they deliver and plant new trees and shrubs. They provide real-time updates when landscape plans are altered on site -- for example, due to utility location changes or tree substitutions sent by the nursery.
Out with the old ... almost
Strawhacker said the goal is to replace the inventory spreadsheet and 65-section map within the next couple years. For now, the GIS map is used internally only. Some faculty also have access to the GIS map for classwork that utilizes the campus landscape for learning.
What's the holdup? Shrubs. About 22,500 of them.
"We have the trees done and our focus right now is to get shrubs into the map," he said. "I'd like to get as much of that information in as we can for the most visited areas on campus."
He said many people visit campus to see unique plants they could use in their own landscaping, and he gets calls and emails from people using the old plant maps. Some are regulars who provide updates and corrections.
"They use the map to see what it is and research the plant -- whether it will grow in their yard or how big it will get," Strawhacker said. "It's a good resource for people who are interested in the campus landscape."