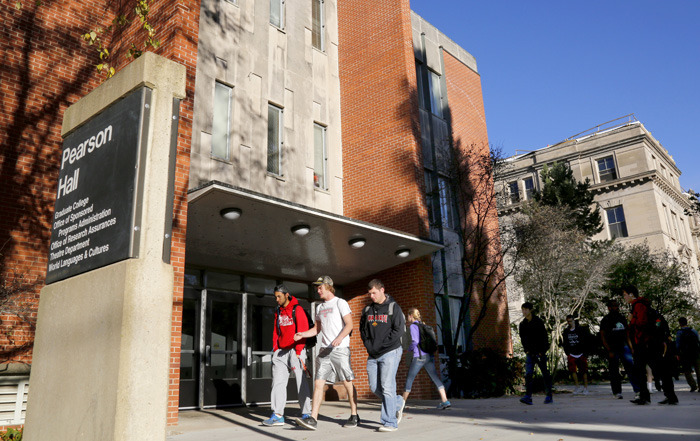 Several years in the making, street addresses have been finalized for more than 650 campus locations. In addition to academic and residence system buildings, the effort includes parking lots, storage facilities, utility sites and outdoor recreation and athletics areas. Places such as the campanile, central campus lawn and Lake LaVerne even have their own addresses.
Use of building addresses will begin on Jan. 1, 2016, with implementation continuing into early March. Key implementation pieces include refacing building signs, adding street addresses to the university's online directory and revising ISU printing services templates for items such as business cards and letterhead. Additionally, the U.S. Postal Service will assign new ZIP+4 codes for campus street addresses.
In the meantime, employees are asked to learn their street address, and units should develop a plan -- once ZIP+4 codes are known -- to share their new address with vendors, clients and other constituents.
Landscape design services project manager Chris Strawhacker, who's overseeing the project for facilities planning and management (FPM), said a primary reason for street addresses is to integrate campus with the local emergency response system and shorten response times for emergency personnel. Street addresses also should help visitors with wayfinding and simplify the task for package delivery and taxi-type services.
Where can I find my address?
A project website features an alphabetical list of building addresses and a Q&A document, among other resources. Street addresses also have been loaded into the Iowa State building information database on FPM's website.
Matching the city grid
The starting point in assigning addresses was to align campus with the city of Ames grid, for example 100-numbered buildings in the first block north of Lincoln Way or 2500-sequenced buildings west of Welch Avenue.
Strawhacker said one challenge is that some campus buildings aren't adjacent to a named street. In most of those cases, a building address takes the named street nearest its front door. For example, Marston Hall, Durham Center and Pearson Hall have Morrill Road addresses; Catt Hall has an Osborn Drive address; Black Engineering has a Union Drive address.
In two cases, a previously unnamed road received a name. They are:
Veenker Drive, the east-west road connecting the Veenker golf course clubhouse to Stange Road
ISU C Drive, the east-west road off University Boulevard to the Veterinary Medicine Research Institute ("ISU" to clarify it's a campus road and "C" to distinguish it from the Vet Med campus "A" and "B" entrances off South 16th Street)
"Our goal was to minimize road naming," Strawhacker said. "If there was an adjacent, named street, we tried to use it."
An advisory committee, with representatives from public safety, residence, postal and parcel, information technology and university marketing, provided guidance on concerns identified during the addressing process.
Mail addresses, stationery reprints
Street addresses will require an additional line on mail delivered to campus. Mail addresses also should contain a building's ZIP code "plus 4." The U.S. Postal Service has begun assigning ZIP+4 codes to the university's building address list. When they're set -- and that date isn't known yet -- the new codes will replace the four-digit building codes currently used by ISU postal and parcel services for campus delivery.
University marketing and ISU printing services are developing new printing templates that incorporate a building address line and new ZIP+4 code. Strawhacker said there is no deadline to replace printed items and encouraged units to use existing supplies of business cards, letterhead and other products. Printing services will not accept orders for business cards and stationery until the new ZIP+4 codes are available.
Strawhacker said mail to campus buildings, whether originating off or on campus, will continue to be routed through ISU postal and parcel services. The exceptions are the Memorial Union and Parks Library, which receive direct deliveries from the U.S. Postal Service. The residence department will continue to sort and route mail to residence halls. The U.S. Postal Service also delivers to the student apartment communities north of campus.
Building signs
Strawhacker said the brown panels on the freestanding building signs will be removed and refinished in a phased process that begins in the center of campus and proceeds outward, finishing with the Frederiksen Court student apartments. The process is expected to take about four months, beginning later this semester.
A refinished sign will include the red and white university nameplate, a building name and its street address. Due to space restrictions, unit names will be removed from building signs.
Strawhacker said the cost of switching out the signs will be covered by university funds committed to this project.
Online map sites
FPM web technologist John Hoffman, who also is a regional lead for Google Maps, will add street addresses to campus buildings on Google Maps. Iowa State has no control over how accurately other navigation websites calculate campus street addresses.