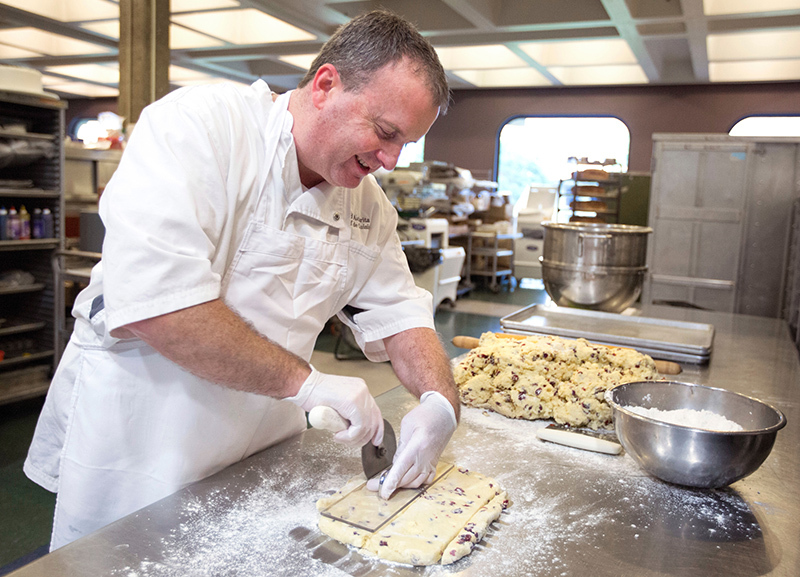 "Thaw and bake" is rapidly disappearing from employee training in the campus bakery. ISU Dining executive chef Scott Bruhn said changes implemented at the start of the school year include additional from-scratch bakery items and a seasonal approach that switches out flavors at the start and middle of each semester.
"Pumpkin doesn't go when it's 90 degrees out, but we know it's popular in October," he noted.
So, for seven to eight weeks, ISU Dining bakers will prepare the featured two to four flavors each of fruit breads, bars, cookies, scones, muffins, Danish, bagels and croissants. How many varieties show up in bakery cases around campus depends on the space available in a location, Bruhn said.
But not to worry; some of those gotta-have Cyclone options -- such as buttermilk brownies, chocolate chip cookies or blueberry muffins -- will remain available through all of the seasons.
Fresh from scratch
Last month, ISU Dining added cookies to the bakery products employees prepare from scratch. When a new bagel machine arrives this winter, bagels will join the list. (ISU Dining currently purchases bagels from Dutch Oven bakery in Boone). Croissants and a Danish option will be the only products that are purchased and baked on campus.
The from-scratch conversion is driven by a desire to offer better products that can compete with other bakery retailers such as Starbucks and Hy-Vee, Bruhn said. That distinction also helps market ISU's dining services to prospective students, he said.
Bruhn said he and ISU Dining director Mohamed Ali both come from an "all-scratch" tradition. Their chefs also prefer to work that way, and purchasing new machinery -- such as the bagel maker, dough baller and cookie dropper -- makes it feasible.
"With the right equipment, one person can do a lot," Bruhn explained.
An ISU team visited large university bakeries at Michigan State and Brigham Young to learn more about successful all-scratch practices.
Even though Iowa State is able to purchase higher quality ingredients (butter, chocolate and others) and increase the size of items, baking from scratch costs "significantly less" than purchasing thaw-and-bake products, Bruhn said. Labor costs even the field, but "we like to give people jobs," he added. The bakery hired three professional staff and additional student employees.
And while they don't show up in a bakery case, ISU Dining also makes from scratch some of the breads for its grab-and-go sandwiches as well as the dough for its New York-style pizzas, available in the dining centers and the redesigned Clyde's Fresh Express (formerly Clyde's Sports Club).
Current bakery items
ISU Dining's retail locations will feature these flavor varieties until mid-October:
Fruit breads: banana, apple nut
Scones: cranberry orange, chocolate chunk
Muffins: blueberry, chocolate chip, bran, low-fat lemon poppyseed
Bars: buttermilk brownie, Rice Krispie, lemon, scotcheroo
Cookies: chocolate chip, snickerdoodle, monster
Bagels: blueberry, cinnamon sugar, Asiago cheese, everything, plain
Danish: cinnamon twist
Croissants: strawberry, chocolate, plain