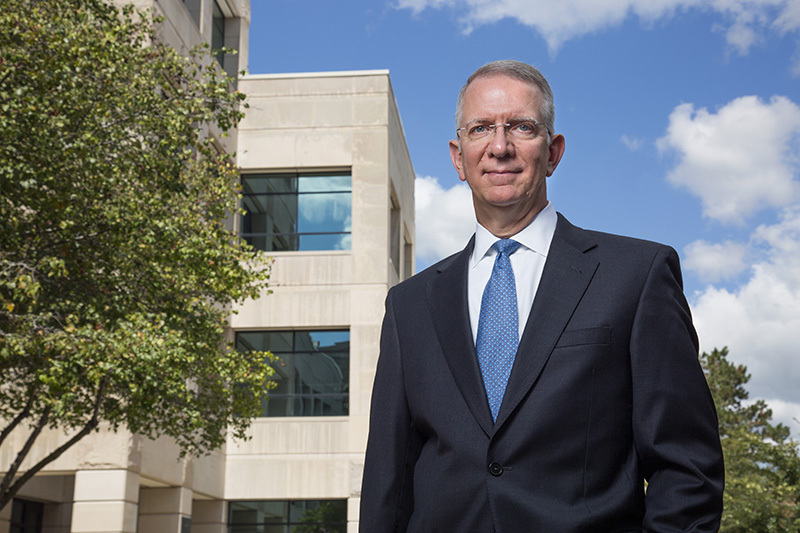 Iowa State's first chief information security officer is back on the campus that awarded his first degree -- a bachelor's in computer science in 1981. David Cotton retired from the Air Force as a Brigadier General in 2011, having served 29 years and four times as a chief information officer (CIO). Most recently, he served in the Department of Defense's Senior Executive Service as the deputy CIO for information enterprise, responsible for worldwide IT network and cybersecurity enhancements.
At Iowa State, he will develop cyber and information security policies. He also will collaborate with the Iowa Board of Regents and the University of Northern Iowa on jointly identified information security initiatives.
Cotton said there are many similarities between protecting information at the U.S. Department of Defense, where he served for many years, and Iowa State.
"We face the same threats. Just the venue is different," he said. "At ISU we have information critical to university operations, our students, our employees, cutting-edge research and intellectual capital. All that needs to be protected at the appropriate level. At the same time, as a public institution, we have the responsibility to freely share some information to aid in further advancements and to educate the public."
He advises faculty and staff to help ISU security professionals understand their units' goals and objectives so they can best participate in developing appropriate security measures.
"We don't want to inadvertently disrupt academic instruction, research or access by the public to information," he said. "Across the university, we should all strive to partner in common endeavors and enterprise solutions, such as IT security, so faculty and staff can spend more time on their core competencies of instruction, research, university operations -- whatever's important to them -- and less time on services that can be provided by others."
He holds master's degrees in computer data and personnel management (Webster University, St. Louis) and strategic studies (U.S. Air Force Air War College, Maxwell Air Force Base, Alabama.
His office is in 291 Durham, and he can be reached by phone at 294-0323 or email, dacotton@iastate.edu.