The third round of funding from a presidential initiative will build four research teams that will use big data to benefit human and animal health, improve cities and build new tools for researchers.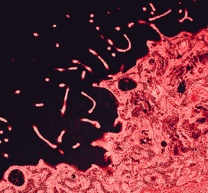 President Steven Leath launched the Presidential Initiative for Interdisciplinary Research in 2012. The program provides seed funding to establish research teams from across campus to tackle emerging societal challenges. The goal is to help the teams grow into well-funded, cross-disciplinary research groups.
The last two rounds of the initiative focused on building teams that are developing big-data tools and techniques to tackle major research problems in agriculture, health, communities, access to research and other areas.
"We launched this initiative four years ago with the intent of creating a new culture of collaborative research at Iowa State, a culture of thinking big," Leath said. "These latest projects in big-data science are great examples of that. We'll have teams of researchers from across campus taking on brain disease and swine flu, while others develop cyber infrastructures and sustainable cities. Thinking big like this is how we'll live up to our mission of creating, sharing and applying knowledge to improve our state and world."
The latest projects to win the initiative's support are:
Big data brain initiative: a three-year, $450,000 project led by Anumantha Kanthasamy, Clarence Hartley Covault Distinguished Professor in Veterinary Medicine, chair of biomedical sciences and director of the Iowa Center for Advanced Neurotoxicology. The research team will use big data to develop new treatments for Alzheimer's and Parkinson's diseases. The researchers will use large datasets about Alzheimer's and Parkinson's patients to identify new biomarkers that indicate risk for developing neurodegenerative diseases and track their progression.
Invention and refinement of shared data-science infrastructures: a three-year, $450,000 project led by Hridesh Rajan, professor of computer science. Data-driven science is shifting the foundations of research. Many researchers, however, don't have the specialized computing skills or equipment to use big data. The research team will solve the problem by creating data-science infrastructures that open the door to big-data analysis. The researchers' initial cyberinfrastructures will help researchers improve traffic and air safety and better understand how biological systems work and evolve.
Characterizing, monitoring and rapidly recognizing emerging swine influenza through data-driven science: a three-year, $375,000 project led by Phillip Gauger, associate professor of veterinary diagnostic and production animal medicine. A multidisciplinary team will develop new bioinformatics tools for real-time tracking of flu in swine. The goal is to improve animal health and welfare, protect human health and secure the food supply. Researchers will develop techniques to integrate and analyze large collections of diagnostic and genetic data on the influenza A virus, which is known to move frequently between swine and humans.
Data-driven decision making for sustainable cities: a three-year, $375,000 project led by Ulrike Passe, associate professor of architecture and director of the Center for Building Energy Research. (This project also won a one-year, $50,000 planning grant during the second round of presidential research awards.) Researchers will use data about living in urban areas to develop new methods to help cities make data-driven policy decisions that are sustainable and meet residents' needs.
100-plus faculty involved
You're invited
The VPR Office will host a celebration of successes in all rounds of the Presidential Initiative for Interdisciplinary Research on Friday, Sept. 9 (3:30-5 p.m., program at 4 p.m., MU South Ballroom).
So far, the presidential research initiative has launched research teams made up of more than 100 Iowa State faculty members from five colleges. The teams have attracted $42.6 million in external funding for projects in next-generation vaccines, agricultural production, data accessibility and big data projects advancing health and communities.
"President Leath's investment in this research initiative has transformed the culture of multidisciplinary research at Iowa State," said vice president for research Sarah Nusser. "The program has brought together researchers in Iowa State's longtime areas of strength – biosciences, agriculture and data sciences – with faculty in arts and social science, creating unique collaborations to investigate complex topics in the context of the societal impacts of the research.
"This initiative also has been instrumental in strengthening Iowa State's leadership in the field of big data. From plant sciences to city planning to everything in between, data-driven science is changing research in many fields," Nusser said. "The initiative ensures Iowa State continues to break new ground by addressing interdisciplinary research through data-driven discovery."