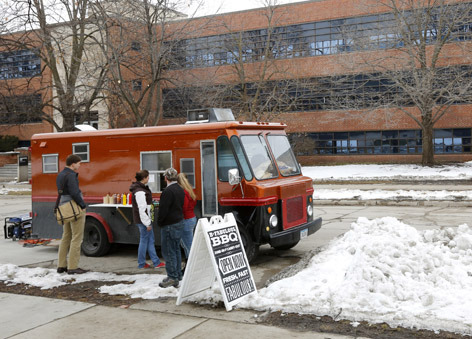 Despite winter's return last week, outdoor food vendors have soldiered on through cold and snow, providing midday lunch and snack options at spots across campus.
Associate director of purchasing Cory Harms, who coordinates the university's contracts with the vendors, said there are five stands currently, with a sixth -- Burgie's coffee truck -- scheduled to return to west campus in March.
Harms says that's about what he has room for. He said he weighs foot traffic in an area and available open spaces in determining optimal locations for the food businesses.
"They're doing us a service, so we want them to stay and to be successful," Harms said.
He noted that the four continuing vendors have operated through the winter.
New vendors:
Since Jan. 28: Huxley-based B Fabulous BBQ, east of Bessey Hall. Menu features pulled pork, brisket nachos, smoked turkey sandwich, pork tacos, "BFF Burger" (ground beef patty with bacon and cheese cooked inside) and an occasional special such as cowboy chili. Homemade sides include baked beans, mac and cheese corn, coleslaw and banana pudding.
Arriving the week after spring break: Ames-based Burgie's Coffee and Tea, southwest of Coover Hall with morning hours (9 a.m.-noon Tuesday through Friday). Menu features specialty drip coffees, handmade espresso and espresso-based beverages, chai, loose leaf teas, hot cocoa and breakfast burritos.
Continuing outdoor vendors:
Finley's Curbside Beastro, west of Kildee Hall
El Mexicano, west of Kildee Hall
Streets of Europe, south of Hoover Hall
The Cheesesteak Factory, between Beardshear and Carver halls
Campus food trucks operate Monday through Friday, generally from 11 a.m. to 2 p.m., and accept cash and credit cards.