At first glance, for a different generation, they might trigger a flashback to a time when you dropped a coin in the slot to call Mom and asked her to pick you up at the mall. At Parks Library, the single-person booth is a quiet study space even if its resemblance to a pay phone booth is unmistakable.
As the pandemic began to wind down and Parks staff saw a need for an area where instructors and staff could go to make a quiet phone call or conduct an online course, the idea emerged to offer a single-person enclosed booth. This spring, the booth was moved from a staff space to just past the main entrance of the library where students could try it as a study option. Survey results showed considerable interest in adding more booths to Parks' study space.
"It started as finding a quiet option during the pandemic for staff. But the need has arisen for students --- if they have an online class or a need to take a meeting via Zoom -- to have a space like this where they can really control the noise level," said Brent Swanson, budget and finance manager for the library. "Right now, we don't really have a lot of individual study room space, and this is a more economical solution than a major remodel."
The library recently converted areas on the second and third floors into 10 individual study spaces, but the need continues to grow, said library dean Hilary Seo.
"Students are looking for spaces they can control because they all want something different," she said.
The booths
Library staff are collecting bids from several companies for four to six additional booths, with the hope of installing them during the fall semester. They will be placed on the first floor -- the only place they fit because of the dropped ceilings on other levels -- in the Learning Connections Center north of the lobby. Each booth costs less than $7,000 and donations should cover all or most of the cost, Seo said.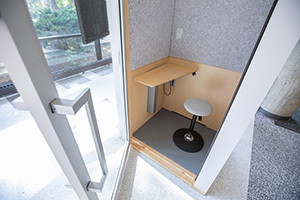 The current wood panel booth measures 80 inches tall, 36 inches wide and 40 inches deep. Additional booths should be similar, including one that will comply with the Americans with Disabilities Act. It has a plexiglass skylight with LED lighting and a dimmer. There is a fan for ventilation, electrical and USB outlets, and a seat with an adjustable desk. The door is self-closing and the booth is sound dampening -- not soundproof, for safety reasons.
Once the booths are in place, faculty, staff and students can reserve them. Use will be monitored and additional booths could be added if demand is high.
"For individual study, our students are asking for low-distraction spaces, and this helps us recognize the needs of our neurodiverse students who may need more privacy to be as successful as they can be when they are studying," Seo said. "Currently, the Periodical Room is the only designated quiet space in the library."
Did you know?
In the last five years, the number of seats within arm's reach of a power outlet in Parks Library has risen from 45% to 70%.
The booths are the latest example of library staff updating available spaces to accommodate the way today's students use them. That includes renovations in recent years that added more group study areas, comfortable seating, natural lighting and lots and lots of power outlets. Staff members survey students on an every-other-year basis to determine the greatest needs throughout the library.