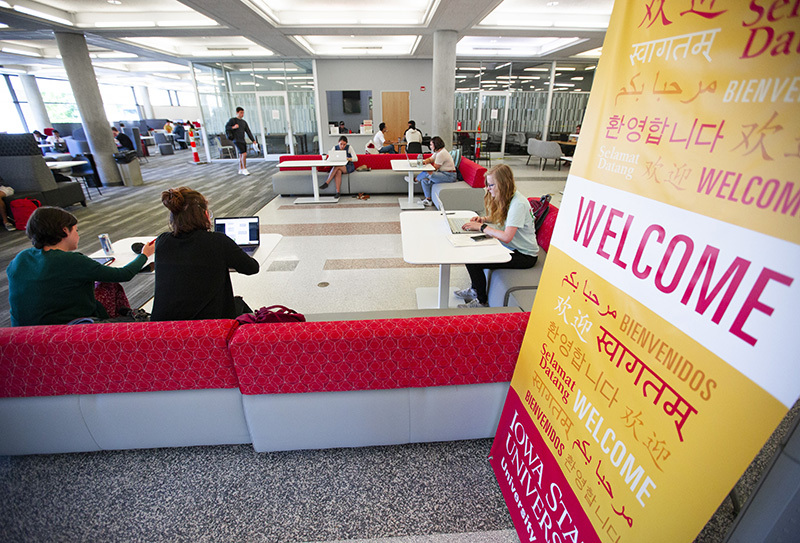 Seven new collaborative study rooms, comfortable seating options bathed in natural light and a central location for the main desk now welcome visitors to Parks Library. But it's hard to miss what students say is the most vital addition after a summer renovation.
"Each year we conduct a student assessment survey and the need for more outlets is always one of the top requests," University Library interim dean Hilary Seo said. "Although we may never have enough, we are surely headed in the right direction."
Plenty of plug-ins for phones and computers are part of the new collaboration area on the south first floor, formerly occupied by the circulation desk and staff offices. Students' complimentary words are on a whiteboard where the library invited feedback on the changes.
The project was funded by a $200,000 donation from the Roy J. Carver Charitable Trust, $125,000 from the university maintenance and improvement committee, and private donations. Seo attributes much of the library's success to donors and their ability to help faculty and staff respond to the evolving needs of the students.
"It used to be physical books and journals that drew the students in, but now they are able to access those resources with the click of a button," Seo said. "We see an uptick in requests for additional study spaces annually, and this year we were able to make significant progress in creating a library that our students need."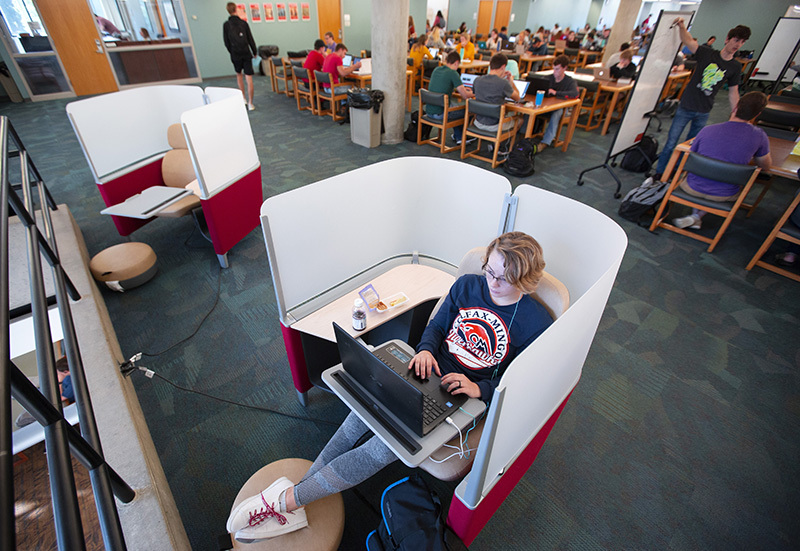 Comfort
With a variety of seating options, the renovated space accommodates more than 200 people. Everything from booths to sofas with tables seem popular, it all is being used.
Two seating options have become clear favorites. Twelve Brody WorkLounges throughout the library -- think individual mini-cubicles -- feature a reclining seat, foot stool, adjustable table to hold a laptop and small work area.
"These are the first chairs to become occupied in the morning," said library communications specialist Monica Gillen.
The "Brodys" give individuals privacy, as do high-back chairs in front of the south windows. Seo isn't sure if it is the ability to look out the window or the comfort of the chairs that draw students, but she knows she likes the change.
"Previously, the blinds were always closed, but now all the window treatments are gone," she said. "When I walk up, I can see all the way through."
There are numerous general-use Apple and personal computers throughout the new space, in addition to a large monitor mounted on a wall students use for group work, flipping from one computer to another. Tech lending, the laptop and equipment checkout service, has returned to its permanent location in the lobby.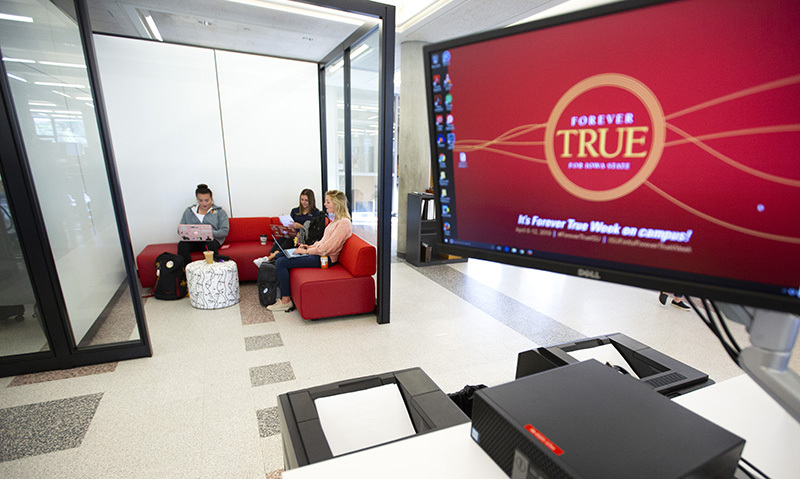 Technology demand
Each collaborative room has a presentation monitor, whiteboard and audio/video conference capabilities. Three are named after donors to the project: Linda Shallcross Soukup, Richard Soukup and Lois and John Mather.
"What our faculty are asking our students to do is not the same as years ago," Seo said. "There used to be a lot of papers and individual work, but now they are being asked to do group projects, group presentations and technology-assisted presentations."
The rooms provide a space where presentations can be practiced, recorded and tweaked. Students can sharpen their interview skills before conducting one via video conferencing.
More than comfy chairs
Although much of the renovation focused on student comfort and modern learning tools, there were other objectives. The updates have had impacts, big and small, on other parts of Parks Library.
The third floor has become a collaborative space where tutors work with groups and whiteboards are as good as gold. There are tables and chairs that accommodate individuals and groups and 10 height-adjustable tables thanks to a University Library and Student Government collaboration.
The area can be more boisterous, but library leaders are fine with that.
"Students really do self-govern and take over the space how they see fit," University Library business services director Brent Swanson said.
What may not be quite as obvious at first glance is the art on the walls.
"Students tell us they want to connect and see themselves in this space, and all the artwork in Parks Library was originally done by white men," Seo said. "The art we have brought in recently includes female artists and artists of color, and the content of the art is different."
Seo hopes the art will spark something in students and put them on a new path of innovation.
Time to change
During the past 12 years, Parks Library has seen its fair share of change, especially with the addition of Bookends Cafe. Having food and drink inside the library -- previously unthinkable -- has become commonplace.
Seo said when Iowa State began to experience its record enrollment growth eight years ago, it became clear updates were needed.
"We started thinking, 'What are great spaces we can use for our students and how can we use them in different ways?'" she said.
That is why the circulation desk moved and now occupies a significantly smaller footprint as the main desk. With the growth of online resources, the need to process books and journals has declined. Even the number of bookshelves shrunk, opening up space in a time when it is at a premium across campus.
"We are reducing the footprint of things that students don't immediately need," Seo said. "This doesn't mean we are taking away books or not supporting faculty and students' needs for collections and resources. We are putting more of them off-site, arranging them in ways that are more intuitive."
There is an emphasis on customer service and a concept staff at the library work with every day.
"We have heard the phrase 'you can't be all things to all people,' but we certainly try," Gillen said.