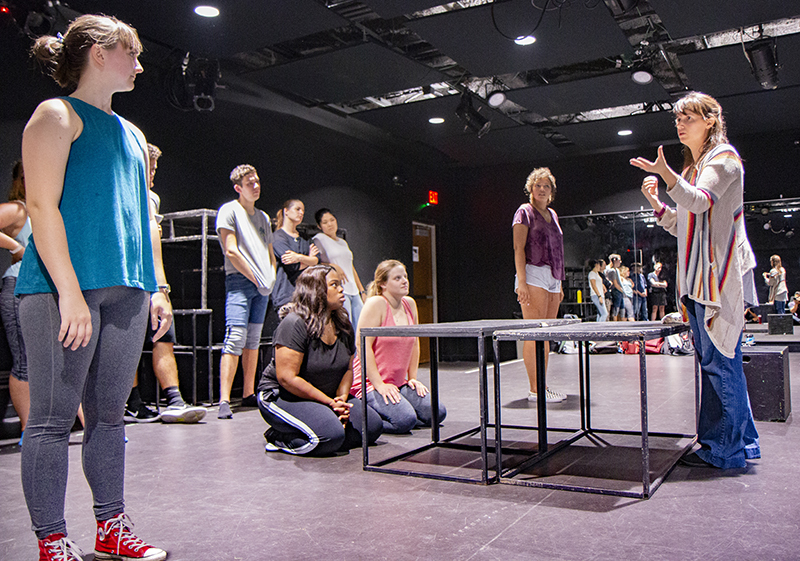 The theatre program opens its season this week with "This is Not A Pipe Dream," the first of six productions in 2018-19. With the new season comes a collaborative initiative that's part of the program's revised mission.
"We are reframing our mission to empower citizen artistry, which is all about being a human who is celebrating their artistry, but also being an engaged and active member of the community," said Brad Dell, director of the theatre program. "The CoLab Initiative is a signature example of this new mission, and we're really excited about heading in this new direction."
ISU Theatre's CoLab Initiative aims to engage with other groups and organizations as a way to expand the content and reach of its productions, course materials and programming.
"We started experimenting with it last year, but we are doing lots of things with it going forward," Dell said. "In one way or another, all of our productions are involved in the CoLab."
Dell said the initiative brings together different perspectives to broaden conversations.
"The whole idea is to foster partnerships and relationships with groups and identities on campus and throughout the community in order to foster citizen artistry -- and to inspire and be inspired by relevant social discourse," he said.
Endowment support
The CoLab Initiative is funded in part by the Transforming Liberal Arts and Sciences Endowment's theater excellence fund, which was established as part of a $145 million anonymous gift to the College of Liberal Arts and Sciences last fall.
The initiative isn't limited to the stage. For example, voter registration tables will be set up in the Fisher Theater lobby for the first two shows in collaboration with national and student-based voter registration drives. The theatre program also will partner with ISU Library's Monday Monologues series with short readings and a voter registration booth on Oct. 1 (12:15-12:45 p.m., Parks Library foyer).
In what he called a practical application of the initiative's goal, Dell said theatre faculty are partnering with the provost's office to incorporate improvisation skills in training sessions for new department chairs.
Production partnerships
Dell said all six theatre productions are tied to the initiative. The productions, all staged at Fisher Theater, and their collaborative connections are:
"This is Not a Pipe Dream," Sept. 28-30 and Oct. 5-7, $5-$18
Theatre partnered with the Iowa State Center to stage weekday matinees of the family-friendly show and offer $5 tickets for youth (17 years and younger).
"Orpheus in the Underworld," Nov. 1-4, $16-$25
The musical production features a collaboration with ISU's opera studio. Dell said cast members will travel to Des Moines' historic Salisbury House and gardens to read scenes and lead discussions as part of an outreach effort.
"It's a Wonderful Life: A Live Radio Play," Nov. 30-Dec. 2 and Dec. 7-9, $11-$18
Tied to the show's holiday message about community, the theatre program partnered with the Ames-based Good Neighbor Emergency Assistance organization on an awareness display in the Fisher Theater lobby. Plans for a possible service project also is in the works. The Good Neighbor organization provides financial help for things such as rent, utility, food and fuel to those in need.
"Sense and Sensibility," Feb. 22-24 and March 1-3, $11-$18
The new adaptation by ISU alumna Kerry Skram features a female voice. Theatre will again partner with Salisbury House and gardens on outreach events in Des Moines.
"Godspell," April 5-7 and 12-14, $16-$25
The spring musical is an annual partnership with the music program. Dell plans to connect with local churches on collaborative opportunities for this year's production.
"Iowa Odyssey (How We Got to Here)," April 26-28 and May 3-5, $11-$18
An original, collaborative production by students and local community members that examines immigration and how it connects to and creates communities. Dell said he is working on the final details of a partnership with the diversity and inclusion office for the production.