Iowa State University attracted a record $601.7 million in total external funding for the 2022 fiscal year that ended June 30. It's the first time Iowa State's external funding total has exceeded $600 million.
The new record is a jump of $42.6 million and 7.6% from the previous high of $559.1 million set in fiscal year 2021. The total includes a record amount of external support -- $284.2 million -- for sponsored research funding.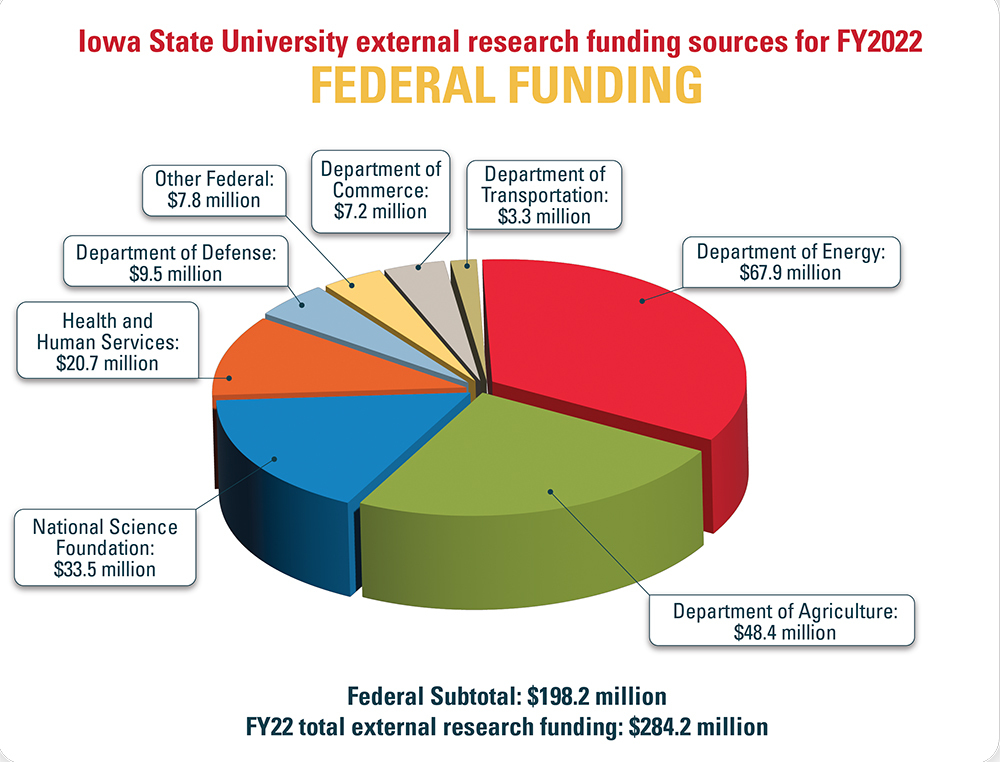 "Record external funding and sponsored research affirms Iowa State's excellence as a renowned research and land-grant university," said President Wendy Wintersteen. "Iowa State's research enterprise is flourishing in a university ecosystem devoted to innovation and entrepreneurial growth. Through our business and industry partnerships, research-based startups and career-ready graduates, Iowa State is accelerating the state's economic progress."
External funding supports initiatives across campus, including research projects, academic support, scholarships and facility improvements. The funding can include contracts, awards and cooperative agreements from federal, state and local governments, as well as from individuals, corporations, nonprofits and other universities. External funding supports research operating expenses, but it does not support operating expenses related to the university's education mission.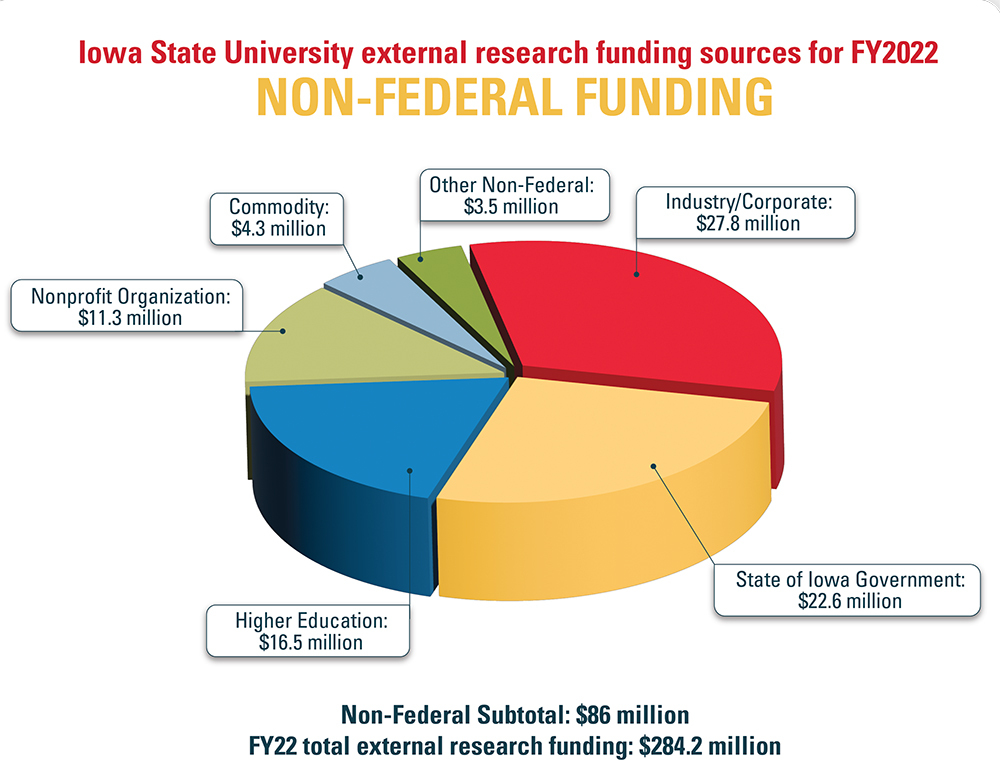 One major source of external funding is the Iowa State University Foundation, a private, nonprofit organization that secures and manages gifts benefitting the university. In FY22, the foundation's fundraising efforts resulted in $229.5 million in gifts received for the university, a jump of $78.5 million from FY21's $151 million.
Record external funds for research, innovation
Iowa State's record sponsored research is a jump of $23.3 million over the previous record of $260.9 million in FY19.
"Even during the height of the pandemic that impacted the 2021 fiscal year, the Iowa State research enterprise never really shut down," said vice president for research Peter Dorhout. "Nevertheless, it would be disingenuous to say it didn't have some effect, particularly on our people.
"The 2022 fiscal year reflects the resolve and excellence of our research faculty and staff and demonstrates that our partners in federal agencies, and in industry and nonprofits, truly value the creativity, expertise and innovation that the Iowa State research community brings to society's greatest challenges."
Examples of externally supported research projects include:
"The record-setting investments by both federal and non-federal sources," Dorhout said, "reflect the Iowa State research community's relentless commitment to fruitful collaboration, deep analysis and research with integrity to unearth new technologies, science, perspectives and ideas that benefit a changing world."