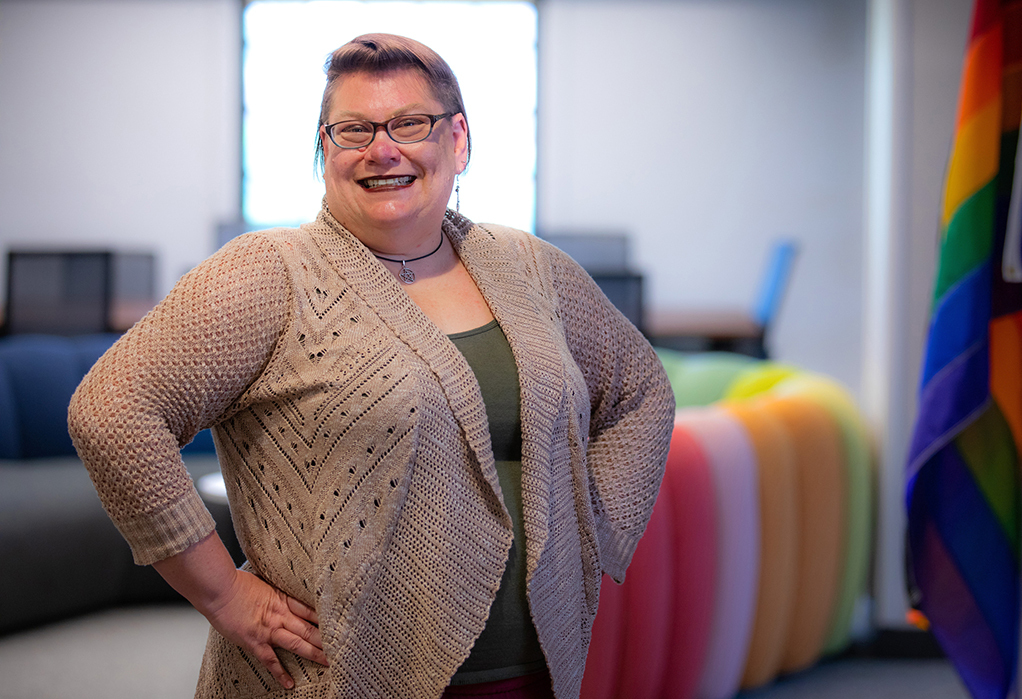 Susan Harper is the director of the Center for LGBTQIA+ Student Success, effective July 1. Following a few weeks of remote work, she arrived on campus this week.
"Dr. Sue" comes to Iowa State from the University of North Texas (UNT), Dallas, where she served as coordinator of multicultural student support services, overseeing multicultural, diversity and identity-based programs. Concurrently, she taught sociology courses at Texas Woman's University, Denton, for nearly a decade. Previously, she taught sociology, anthropology and women's studies courses at the University of Texas, Arlington; UNT, Denton; and several campuses of the Dallas County Community College District (now Dallas College).
Harper grew up in Yankton, South Dakota, and was college educated in Texas. She earned master's and doctoral degrees in cultural anthropology from Southern Methodist University, Dallas, where her work focused on identity construction within the Texas Neopagan community. She also earned a master's degree in multicultural women's and gender studies from Texas Woman's University and bachelor's degrees in English and anthropology from UNT, Denton.
She has presented her work on lesbian motherhood, Neopaganism, feminist pedagogy, adjunct exploitation, and qualitative inquiry as a tool for social justice at conferences. Her current project, schedule to be published in 2023 and which she co-authored, is on doing ethnography.
Harper is in the process of filling the center's other full-time position. She said the goal is to have an assistant director on board early in the fall semester.
In mid-May, the center moved to the renovated fourth floor of the Memorial Union. Harper's office is in 4600 MU. Contact her by email, drsusan@iastate.edu, or phone, 294-5424.