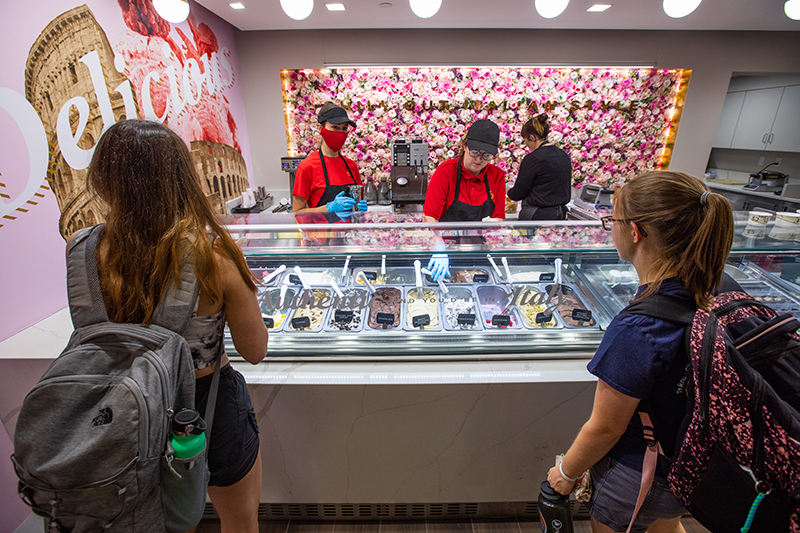 In its first week of operation, traffic surged on Friday afternoon at Dolce Freddo, ISU Dining's newest Memorial Union eatery. That made sense to Amanda Wever, assistant manager of both Dolce Freddo and the production facility for the gelato and sorbet it serves.
With its striking back wall covered in white and pink silk roses and a menu of rotating flavors and novel creations -- a plate of gelato "nachos," for instance -- Dolce Freddo was designed to be fun and a bit exotic, an appealing prospect as Friday is about to become the weekend.
"It definitely has a 'wow' factor. It's almost like you're on vacation," Wever said.
ISU Dining began making gelato and sorbet in 2019, serving it at the Hub. It was a good fit with The Roasterie's coffee and espresso, an authentic and on-trend offering that features fresh ingredients and the flexibility to try new flavors, said Jamie Lenz, senior associate director of ISU Dining. As pre-pandemic sales climbed at the Hub, ISU Dining decided to open a standalone gelato shop in an open storefront on the MU's first floor just east of Panda Express.
The store's Italian name, pronounced "dole-chay freh-dough," drives home the authenticity of the product and roughly translates as "sweet cold," Lenz said. The aim with the look of Dolce Freddo is to maximize the impact of a small space and make it feel like somewhere else.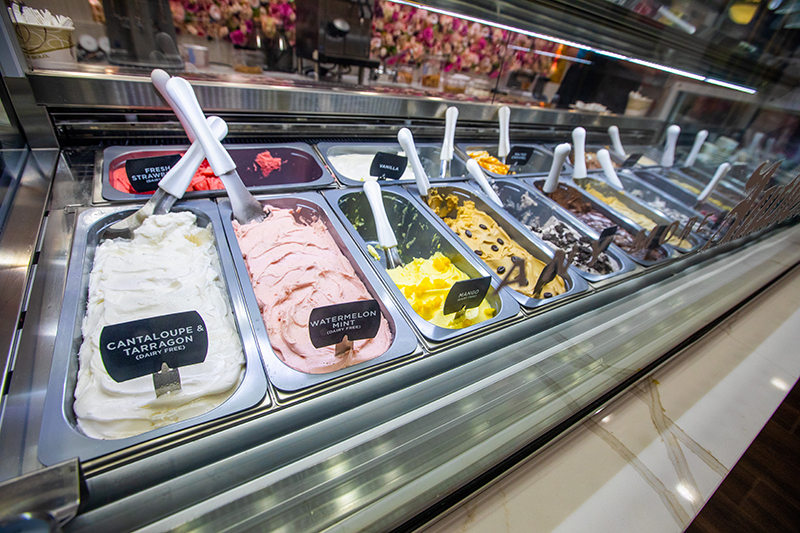 "The flower wall is key to the design because it faces the hallway and is so unexpected when you walk by. Our goal is that it draws you in to try the product," he said.
Dolce Freddo opened the first day of classes. Earlier this week, freshman Robert Polidoro stopped by for his first taste. He grew up in an Italian family in the Bronx, a useful background for judging gelato.
"It does not disappoint," he said after trying the stracciatella, which is vanilla with thin shards of chocolate. "This place carves out a very good niche."
The 16 flavors offered daily include some core stalwarts – like cookies and cream, which Wever said is the No. 1 seller – and an ever-changing lineup of limited runs and new concoctions, such as the pumpkin pecan debuting soon. The menu always has a handful of sorbets, a dairy-free option. This week, one of the sorbets was cantaloupe-taragon featuring melon grown at the ISU Horticulture Research Station north of Ames, Wever said. See Dolce Freddo's online menu to view the current flavors.
The menu also features shakes, popsicles and specialty products such as a panini, nachos and spaghetti, all made from gelato. The "chips" for the nachos are waffle cone pieces. The "spaghetti" is made from vanilla gelato shaped like noodles with a potato ricer, topped with strawberry sauce for marinara, toasted coconut flakes for parmesan and optional balls of chocolate gelato as meatballs.
While she appreciates the indulgent novelties, Dolce Freddo regular Millicent Cameron also likes that the products are lighter than other frozen desserts, and the sorbet makes it convenient to enjoy a treat with her lactose intolerant sister. And she loves the shop's design.
"It's super fancy and modern," said Cameron, ISU catering assistant manager.
For now, Dolce Freddo is open 10:30 a.m.-3 p.m., hours limited by hiring challenges. If staffing allows, Lenz hopes weekday hours will extend to 6 or 7 p.m. eventually, with occasional pop-up openings on weekends and later in the evening.