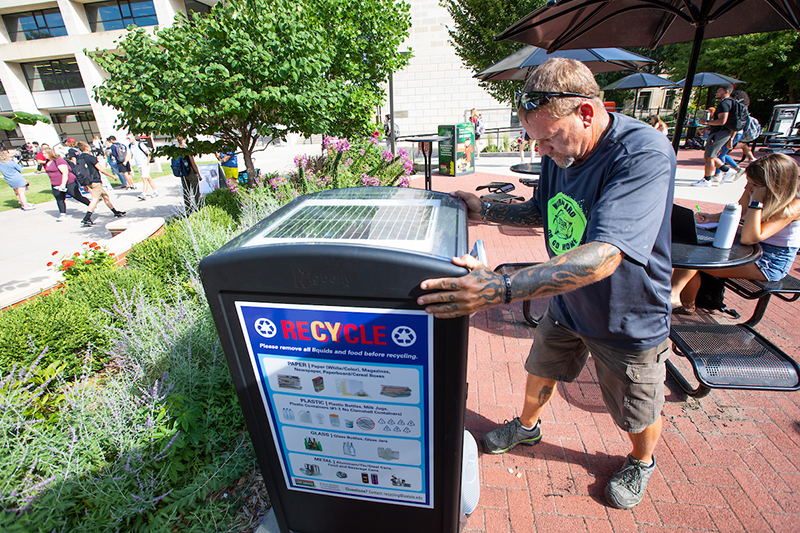 With funding last year from student government for six more solar-powered recycling compactors, recycling coordinator Ayo Oluwalana in facilities planning and management grabbed a chance to clean up the campus community's recycling of paper, metal, plastic and glass when they're on the go.
From campus services staff who empty the green trash compactors and blue recycling containers, he knows contamination -- trash landing in recycling containers or vice versa-- is a problem. So Oluwalana, in partnership with the office of sustainability, designed "show me" signage that contains images of all the materials that belong in a blue recycling compactor. The six new recycling stations, also notable by their hands-free foot pedal that opens the hopper door, have the new signs, and Oluwalana will test whether different labeling helps members of the campus community distinguish between trash and recycling receptacles.
The green trash compactors also outnumber blue recycling containers on campus about 8:1, making it impossible to pair the two in every location. Even in locations where they sit side by side, users often don't detect the difference, he said.
"When someone takes a split-second decision to decide which container to use, I think an image of what should go inside is important," he said.
So the six new recycling containers intentionally were paired with a green trash compactor in high-traffic locations.
Every couple of months throughout this academic year, in collaboration with campus services and the Zero Waste Team, Oluwalana will compare recycling volume and contamination between stations with the old and new signage.
"We'll see if people are getting the message; if the sign gives clarity about recycling, and if pairing the trash and recycling containers prompts people to use them correctly," he said.
Where are they?
Campus services teams installed the new containers in busy locations: Northwest sidewalk of the Memorial Union; and near Kildee, Curtiss and Beardshear halls, the Hub and the transit hub at the Iowa State Center.
The nine containers with the original recycling wrap (right) are near Beyer, Pearson and Troxel halls, Student Innovation Center, Biorenewables Laboratory, the northeast corner of Lake Laverne, east campus parking deck, Lied recreation center and the fish tank lobby entrance at the College of Veterinary Medicine campus.