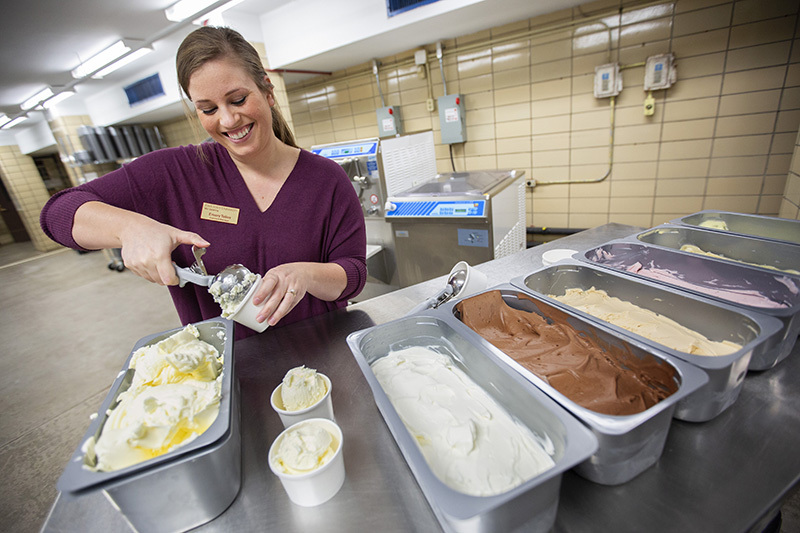 When The Hub reopened last month, gelato made its campus debut. Tucked away in the basement of Friley Hall is a room ISU Dining repurposed into a creamery, where fresh gelato and sorbet are produced for the venue.
Emory Telios, an ISU Dining employee since her undergraduate years, moved from a catering supervisor role to take charge of the one-person operation. She trained with chefs at Carpigiani Gelato University, Chicago, and even won the top prize in her class with a gelato flavor fusion of lemon and black licorice.
Fresh ingredients are the key. Don't expect to see bold colors in The Hub's gelato case, a sure sign of artificial food coloring. Telios uses natural flavors, like fresh-squeezed lemons and oranges, ripe raspberries and espresso from The Roasterie coffee counter, where the gelato is served. The final product is flavorful, dense and creamy.
Telios makes up to 20 5-liter pans of gelato and sorbet each weekday. Six of the eight flavor selections are constant (for now) -- chocolate, coffee, lemon, pistachio, raspberry and vanilla. Two flavors, including a dairy-free option, rotate periodically. This week, it's orange sorbet and salted caramel gelato.
Telios said the flavor possibilities are almost limitless, and with dining and residence staff right upstairs, there are plenty of volunteer taste-testers to provide feedback on her latest creations.
"Everybody volunteers for that," said Jamie Lenz, assistant director of ISU Dining. "They're always asking when we're having another tasting."
"Maintenance requests get fixed pretty quick around here," Telios joked.
Despite record-breaking cold temperatures and Iowa's typical winter weather since The Hub reopened, the frozen desserts are gaining popularity as awareness grows. Lenz said future plans include "gelato pops" and adding gelato to more dining venues.