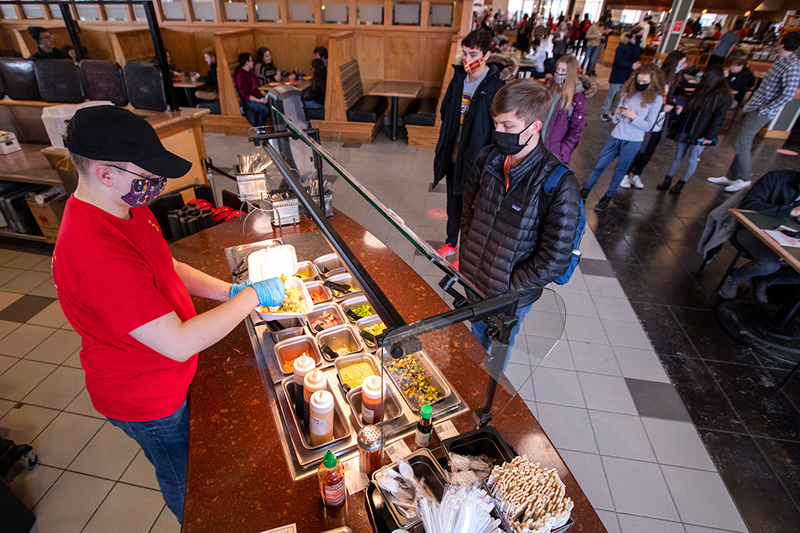 Iowa State enrolled 29,368 students this spring, re-enrolling from fall to spring semester at the same rate as a year ago and exceeding budgeted enrollment projections established in July, the start of the fiscal year. Among undergraduates eligible to register for spring classes, the same percentage -- 93% -- did enroll this year and last.
Overall, enrollment declined 1,405 students from spring semester 2020, nearly all in the undergraduate ranks. Graduate and professional student enrollment remained nearly steady.
Iowa State exceeded the spring enrollment projection it set last June by more than 200 students, said associate vice president for enrollment management Laura Doering. She praised the efforts of accounts receivables, financial aid, registrar and college advising staffs to identify and work with students who wanted to return to school but hadn't acted yet.
"I'm incredibly proud of how the campus came together to really focus on enrollment [as part of the Eligible to Enroll initiative]. A lot of people got involved in telling our students, 'We want you back. What can we do to help you?" she said. "Cyclones Care is a campaign about staying healthy, but it's also about how we support our students. We want our students to stay at Iowa State and be successful here -- if being at Iowa State is what's right for them.
"It was a great collaboration with the academic colleges, and all of that effort paid off," Doering said.
Spring semester enrollment
| | | |
| --- | --- | --- |
| | 2021 | 2020 |
| Resident students | 16,507 | 16,906 |
| Undergraduate | 14,994 | 15,466 |
| Graduate | 1,278 | 1,214 |
| Professional* | 235 | 226 |
| Nonresident students | 10,390 | 10,930 |
| Undergraduate | 8,535 | 9,089 |
| Graduate | 1,475 | 1,474 |
| Professional* | 380 | 367 |
| International students | 2,471 | 2,937 |
| Undergraduate | 953 | 1,329 |
| Graduate | 1,512 | 1,602 |
| Professional* | 6 | 6 |
| Total | 29,368 | 30,773 |
*Doctor of Veterinary Medicine
Domestic, international shifts
Enrollment differences over the past year are distributed fairly evenly across Iowa resident students, nonresidents and international students. Differences in domestic student enrollment are highest among underclassmen. Doering said COVID-19 concerns weigh heavily on students. While younger students may see benefits in a gap year or semester, upper level students with a longer investment in their educations are more likely to push through to the finish line despite adversity, she said. This was evidenced in the high representation of seniors in the five-week winter session.
A decline of 466 international students from spring 2020 to spring 2021 is most pronounced among the undergraduate classes. Doering said the health pandemic, travel ban, political climate and students' willingness to wait until after the pandemic for a fuller "American" college experience all played a role.
Fall to spring differences are normal
The difference between fall and spring enrollment (about 2,500 students) is consistent with past years, Doering said, and reflects several constants in higher education such as December graduation, first-time academic ineligibility and financial holds on student accounts.
As occurs in the fall semester, the university takes its spring enrollment count on the 10th day of class, Feb. 5 this semester.