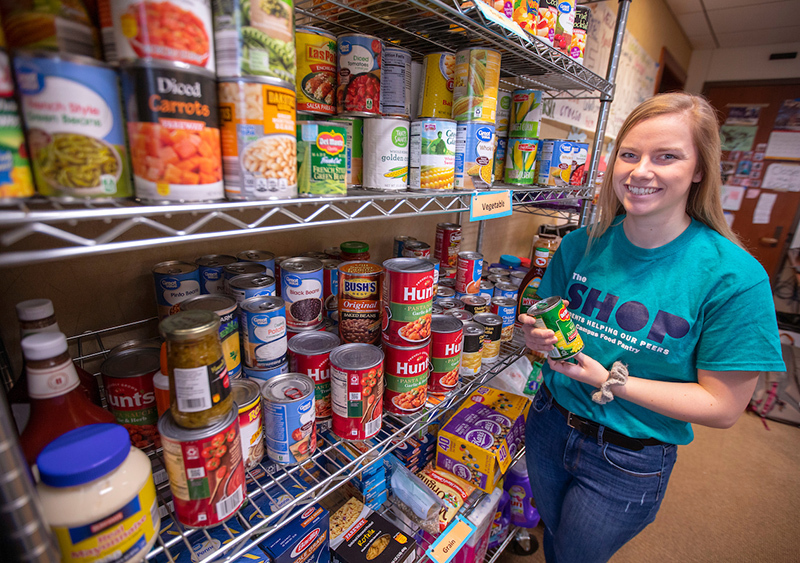 Students Helping Our Peers -- the campus food pantry known more commonly by its acronym, SHOP -- is nine years old this month. From a single location in the Food Sciences Building open three hours a week in 2011 to three locations open between 30 hours per week and essentially 24/7, it has grown up. Smaller satellite locations in the community centers of the two student apartment communities, Schilletter-University Village and Frederiksen Court, opened in fall 2014 and 2018, respectively, to provide convenient service. Another satellite pantry operated off campus during the time the residence department leased and operated multiple apartment buildings in southwest Ames (2013-18).
Junior Belinda Heckman, who recently assumed the student organization's president role after several months as a SHOP volunteer, said awareness among students remains a top goal. SHOP tracks its traffic by individuals helped per week, not number or pounds of food items shared. The pantries serve about 50 students per week, but she thinks the need is more widespread. Her opinion is influenced by two ideas: When she asks students if they know about the SHOP, most do not. She also cited a 2018 national survey that found one in three college students is food insecure.
2616 Food Sciences Building
Mail room, Frederiksen Court Community Center
Kitchen, SUV Community Center
"We don't want hunger to limit any student's academic or career success," she said. "Part of our job is to diminish the stigma of using a food pantry."
The good news, Heckman said, is there's interest in spreading the word about SHOP. She estimated about 75 students volunteer to keep the main location in the Food Sciences Building open 30 hours each week. Residence department student employees ensure access to the pantries in the community centers as part of their duties. And many campus groups -- Greek teams, student organizations, dean of students office, student wellness, for example -- organize donation drives that both help fill the shelves and alert students the shelves exist.
SHOP adviser Breanna Wetzler, communications specialist in the College of Agriculture and Life Sciences, called the collection process "very grassroots."
"The campus community has been great about donating to SHOP," she said. For example, so far this month, about 1,200 pounds of donations have come in. SHOP keeps a recommended donations list on its website. SHOP executive team members use cash donations mostly to purchase what Heckman termed "fast" items -- pasta, sauces, rice and similar high-demand foods.
Faculty and staff are among the donors, Heckman noted.
"It's impactful when professors care about their students outside the classroom. We appreciate it when they share information about SHOP with students, and we are grateful when they spend the time to purchase items and donate to SHOP.
"The student need often is unseen," she added.