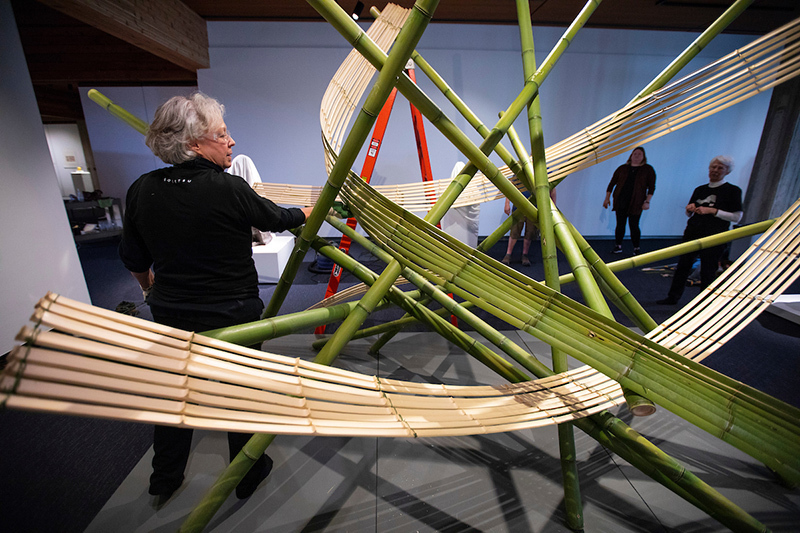 Attired in matching T-shirts, four women who study Japanese floral art together in western Philadelphia worked for two days this week to design a sogestu ikebana arrangement in the Brunnier Art Museum's front gallery. Created from bamboo and wire, it measures approximately 12 feet by 8 feet by 12 feet, a striking piece in university museums' "Contemplate Japan" exhibition running through the end of July. It opened Wednesday.
Sogetsu, a style within the broad ikebana craft, is a modern (1927), less rigid variety of arranging plant materials.
The team was led by Marcia Borel of Chadds Ford, Pennsylvania, a 1978 ISU alumna. Joining her were Marlys Kerr and Margaret Odiorne of Wilmington, Delaware, and Debra Dickinson, Malvern, Pennsylvania. Borel and her husband, Jim, also from the class of 1978, commissioned a 2015 Rose Frantzen painting of George Washington Carver and a young Henry Wallace, "Do You Know What's Inside This Flower?" for university museums. Through that project, they met museums director Lynette Pohlman.
The "Contemplate Japan" exhibition will include more than a dozen education programs. Featured ceramics artist Peter Hamann, who studied in Iowa but lives and works in Japan, opens the series Sunday afternoon, Jan. 19, with an artist talk at 2 p.m. Three of the sogetsu specialists will return in mid-April and, with other sogetsu designers from the Kansas City area, create more arrangements that will be part of the exhibition for about a week.