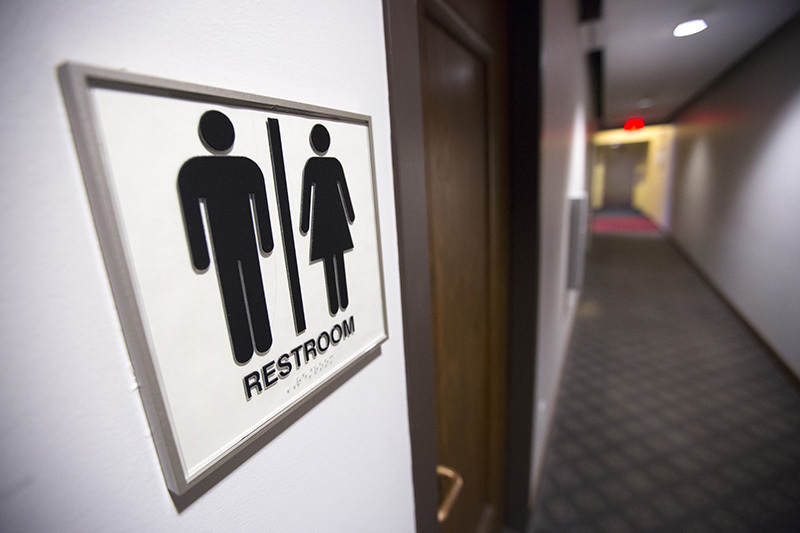 Nearly all campus buildings were built long before spaces such as lactation rooms and gender-inclusive restrooms were considered, but the university's aim is to add them when possible.
"You put things in the infrastructure of buildings that make them accommodating to everyone," said Kerry Dixon, a project manager for facilities planning and management (FPM).
Iowa State's efforts to meet those modern expectations rely mostly on incorporating such facilities in newly constructed buildings and in renovations, though the space crunch on campus makes adding new private spaces a challenge in some remodeling projects.
"In our older buildings, it gets extremely difficult," Dixon said.
Privacy for anyone
The university's facility design manual has called for including a single-user, handicap-accessible restroom in new construction for about a decade, Dixon said. The addition to the university's design standards came after a single-user bathroom was created in the renovation of Morrill Hall, which opened in 2007, to accommodate a male student who used a wheelchair. Unable to find a restroom he could use with his female aide, the student was scheduling classes to allow him to return to his residence hall for bathroom breaks, she said.
"That's what triggered it," Dixon said.
Since then, single-user restrooms have been built in a dozen facilities, including Morrill, according to FPM data. Others that already existed have been identified, with a total of more than 50 across campus.
Single-user restrooms serve a variety of needs -- parents with small children and those in wheelchairs and motorized scooters who need more space than a typical handicapped stall, for example. But they're open for use by anyone, which can mean peace of mind to gender nonconforming individuals. Solo bathrooms' gender inclusivity spurred a group of students to map them, a volunteer effort coordinated by the Center for LGBTQIA+ Student Success.
"It was a massive effort, a lot of clipboards," said Brad Freihoefer, the center's director.
The map, released in 2016 and set to be updated later this year, doesn't show every single-user bathroom on campus. Each of the 30 facilities identified is easily accessible, with a lock and a sign indicating it is open for use by any gender. While the signage could be more consistent, Freihoefer said, single-user restrooms are a relief for people who may feel unsafe in a gender-specific facility.
"These are definitely daily realities for students, faculty and staff," he said.
A place to pump
An emphasis on lactation spaces picked up in the wake of new federal labor rules pertaining to nursing mothers included in the Affordable Care Act in 2010. The law set standards for spaces employers must offer workers who want to pump breast milk. It includes a prohibition on lactation areas in bathrooms, which required the university to eliminate many existing lactation areas.
On the recommendation of the Professional and Scientific Council, the child care and family resources program took on the coordination of lactation rooms, many which were remodeled in 2016. University buildings now feature 22 permanent lactation areas, a number which will grow over time.
"In all our new buildings, we're putting them in," Dixon said.
The goal is to have a lactation room available across campus within a five-minute walk, but that's been a struggle to meet in the southeast corner of campus, said Julie Graden, child care and family resources program coordinator. Building supervisors interested in setting up a lactation space can email Graden's office at ccfamily@iastate.edu. Temporary spaces and personal offices also are options for nursing mothers.
"These rooms don't have to be very large," Graden said. "They just have to be clean and comfortable and lockable."
Pressure on projects
Adding a solo bathroom or lactation room can mean making choices in a renovation project, such as eliminating an office area, Dixon said.
"It puts extra pressure on these projects," she said.
That's especially true with unisex bathrooms, she said. Renovating restrooms, such as the upcoming project at Parks Library, requires bringing them up to current code, including accessibility requirements that often need additional space. Yet the minimum total number of toilets in a building is mandated by building codes, and only bathrooms designed for a specific gender count in that calculation.
"The state building codes and plumbing codes have not caught up with practice," Dixon said.