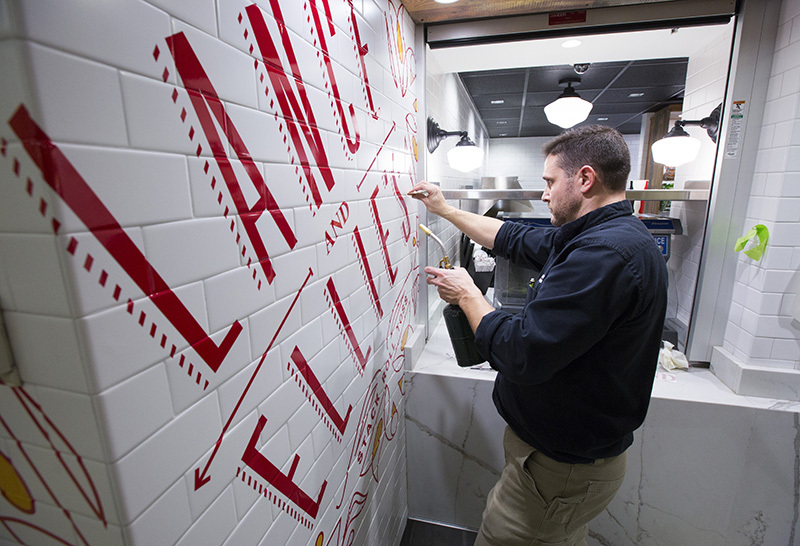 ISU Dining's new delicatessen opened Wednesday in the Memorial Union. Lance and Ellie's, named for the iconic swans found on and around Lake LaVerne, boasts Iowa-sourced and scratch-made items as part of its menu.
Hours
Monday-Thursday, 10 a.m.-8 p.m.
Friday, 10 a.m.-7 p.m.
Saturday, 10 a.m.-3 p.m.
Sunday, closed
Diners can choose a chef-created "stack, roll or toss" (sandwich, wrap or salad), which range in price from $4.95 to $6.50. The venue uses Boar's Head premium cheeses and meats (leaner cuts with fewer additives), and tofu made in Iowa City using Iowa-grown soybeans. House-made dill pickles, desserts and fresh-baked bread also are featured.
The menu sports two hot sandwiches, including a vegetarian barbecue creation made with shredded jackfruit -- a versatile tropical fruit with a meaty texture. Any of the "stacks" can be toasted. Sides (potato salad, edamame salad, fruit, chips), desserts (marble cookies, mocha brownies) and fountain pop are available a la carte or with a combo meal.
Location
Lance and Ellie's is located on the west side of the first-floor food court. ISU Dining reclaimed the space when a lease held by the Subway national sandwich chain expired last May. Kristi Patel, assistant director for ISU Dining's retail operations, said two full-time staff (a cook and a sous-chef) and up to 40 students will work at the new venue.