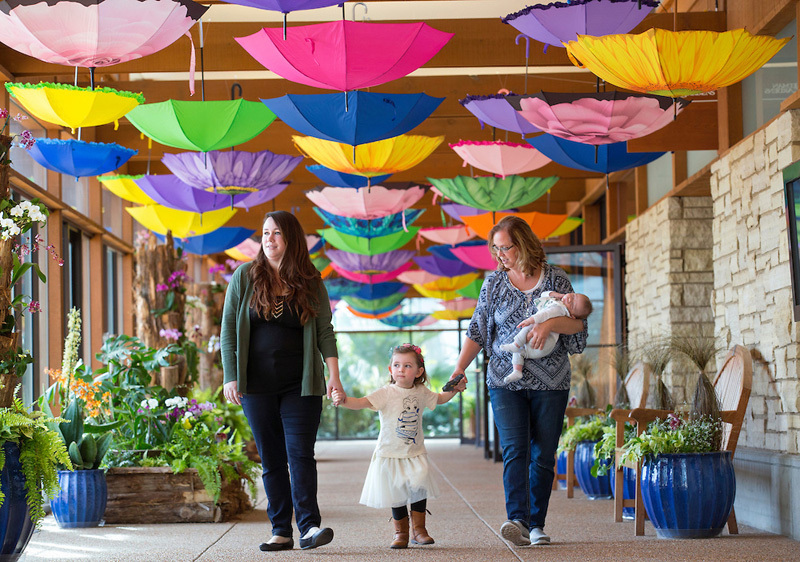 Reiman Gardens will be awash with all things water-related throughout 2017, aptly reflecting this year's theme of "Water." From now through December, visitors may peruse exhibits of vivid floral displays that feature items related to oceans, lakes and rivers.
Following is a glance at some of the exhibits currently on display, and others in the works. For a complete listing and more details, visit the Reiman Gardens website. Regular admission rates apply.
Current displays
"Petals and Parasols," Hughes Conservatory, through April 23
Whether you call them parasols, umbrellas or bumbershoots, Reiman Gardens has a plethora of colorful ones on display, both inside and outside the Hughes Conservatory. Orchids and other vibrant flora are juxtaposed among the umbrellas, as if waiting for a spring rainfall.
"River Stories -- Views from an Iowa Watershed," Garden Room Gallery, through March 31
This educational display incorporates "photostories" using Photovoice, a community-based process that uses photography and group dialogue to understand topics of importance or concern. In this exhibit, Iowa women farmers provide photos and documentation regarding Iowa's watershed concerns and land conservation.
Upcoming exhibits
"Washed Ashore," throughout Reiman Gardens, April 29-Oct. 31
Ten, larger-than-life sea creatures made from trash collected from beaches will dot the grounds during this long-running exhibit. The sculptures will make their national debut at the gardens, bringing with them a message of conservation and recycling. Additional information about the sculptures, including photographs, is available online.
Garden displays
Just as nature changes its colors throughout the seasons, Reiman Gardens will offer several garden displays to showcase the beauty of spring, summer, autumn and winter foliage.
"Springtime Swirl," Campanile Garden, Herb Garden, South Mixed Border, Children's Garden, mid-April through mid-May
A variety of 50,000 colorful tulips make a splash as they mimic a landscape of watercolors.
"Totally Tubular," Hughes Conservatory, April 28-Aug. 13
A nod to summertime and surfing, tubular-shaped flowers may inspire onlookers to catch a wave.
"Thrillers, Spillers and Tummy Fillers," Herb Garden, May 15-Oct. 15
See thyme, oregano and other herbs spring from fountains to create colorful waterfalls.
"From the Deep," Campanile Garden, May 15-Oct. 15
Whimsical displays inspired by sea monsters tease the imagination about what lies deep beneath the ocean.
"Bath Time and Bubbles," Children's Garden, May 15-Oct. 15
A stream flowing under a covered bridge, a frog splash pond and bubbles are just a few of the ways kids will enjoy this exhibit's water theme.
"Torpedoes and Tomatoes," Home Production Garden, May 15-Oct. 15
Submarine sandwiches are the inspiration for the vegetables that grow in this summertime garden.
"Cardinal Tide," Hughes Conservatory, Aug. 18-Nov. 5
The kickoff of Iowa State's fall semester colors the conservatory in cardinal plants and flowers.
"Snow and Ice," Hughes Conservatory, Nov. 10-Jan. 7, 2018
The RG Express train returns and chugs its way through a landscape of snow and ice, complete with white poinsettias, flocked trees and snowflakes.