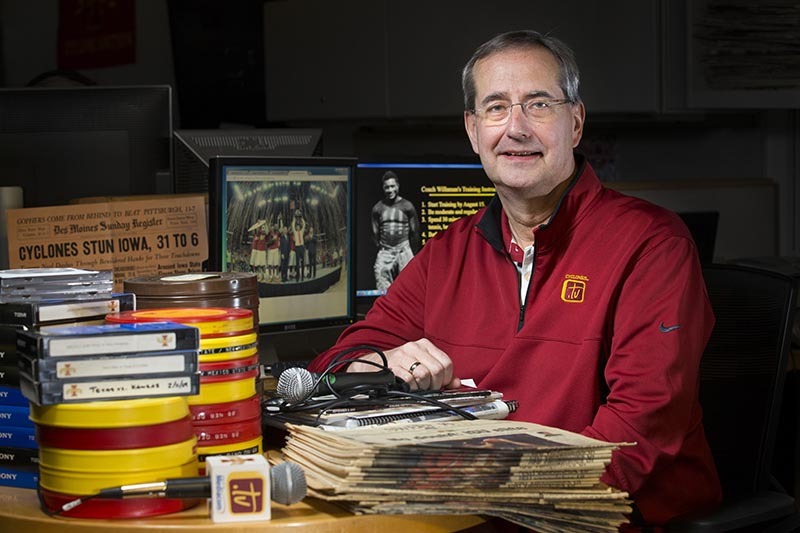 Last fall, a new athletics video series kicked off in tandem with the 2016 football season. Fed by "lots and lots" of history stored in one man's brain, the "Cyclones 101" stories are researched and told by Cyclones.tv director of programming Tom Kroeschell. A Cyclone by birth (both parents are alumni), "professor Kroeschell, doctor of CYcology" already has nearly 30 episodes on his syllabus with plenty more where that came from. The free episodes are released via the @CyclonesTV Twitter account, and publicly available on the athletics website and YouTube channel.
Talk about the evolution of the "Cyclones 101" series.
I wanted to make a contribution to our Twitter efforts. This was a way to do that and use what I have gleaned from being in athletics for 31 years here. I'm just the kind of a guy that likes to find a good story and tell it. It's just fun.
I have great support from some very talented people in our office. Dani Orris (media production manager) gave me a lot of encouragement to do it. Austin Minnihan (media production specialist) made the cool open [intro video].
What is the optimal length for a feature?
About 1:20. I have done a few longer, those we have titled "night class." For example, the 1957 ISU men's basketball victory over Wilt Chamberlin [and the Kansas Jayhawks]. That's a monumental day in Iowa State sports history and merits a little longer feature.
Do you have a list of stories to do?
I don't have a working list. I have a mind full of these stories. I've always loved Iowa State athletics history and Iowa State university history, so we try to work in things to give people an idea of what it was like at that time if we're going to go pretty far back. There are so many stories to tell.
How do you come up with story ideas?
I talk with people who have stories, and the library's "Iowa State Alumnus" [alumni magazine, 1905-48] is a treasure trove of athletics and university issues -- absolutely fascinating. Fascinating stuff. That's where you get some of your ideas -- it's what was going on then, and a lot of that has been forgotten now.
I also do the documentaries for Cyclones TV. When you're in the middle of researching, you come across something that's not going to fit, but think 'that's a cool little story or nugget.'
How do you research the features?
I spend time down in the microfilm media center in the basement of the library. They know who I am.
I also use the athletics archives, university archives, the "Alumnus" and personal interviews. Becky Jordan (reference specialist) and the people at special collections could not be nicer or more professional.