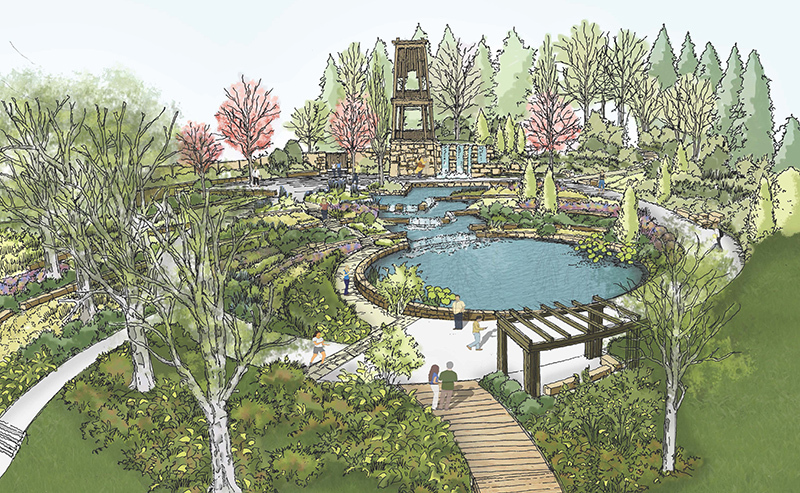 Iowa State will seek final approval on a $3.4 million plan to improve the southwest corner of Reiman Gardens when the state Board of Regents meets Feb. 22-23 at the Alumni Center. No state funds would be used for the "Sycamore Falls" project; it would be completed with private gifts, including a $1.7 million lead gift from Roy and Bobbi Reiman, for whom the gardens were named 22 years ago.
The proposed area is 1.25 acres at the south end of the gardens, bordered by Beach Avenue on the west and University Boulevard on the east. Sycamore Falls is part of the gardens' 2015 master plan.
The work includes terracing the hillside to create a series of water pools that cascade over walls and collect in a circular pool surrounded by a walkway. It will include native ornamental plants and incorporate seven 80-year-old sycamore trees, which will create a natural eastern border for the plan area. The intent is to create an outdoor space for events and gatherings.
If the project receives board approval, construction would begin in April and continue into early fall, with final plantings scheduled for spring 2018.
Audio of all open sessions during the regents' two-day meeting will be livestreamed on the board's website. The agenda and supporting documents also are online.
2017-18 parking rates
Iowa State is proposing to leave parking rates (hourly and annual and academic-year permits) at this year's levels for all stalls managed by the parking division.
Permits for the Memorial Union ramp, which is managed by the MU, would go up an average of 2.5 percent ($5 to $12), as proposed. The illegal exit fee at the MU ramp would go up $20, to $120, as proposed. The board will review rates next week and vote on them at its April meeting.
Memorial Union ramp permits
| | | |
| --- | --- | --- |
| Type | Proposed FY18 | Current |
| Annual | $546 | $534 |
| Fall, Spring | $238 | $232 |
| Winter (Nov-Feb) | $232 | $226 |
| Summer | $192 | $187 |
2017-18 student housing and dining rates
Iowa State will ask the board to approve residence hall and apartment rate increases of about 3 percent (in whole dollar amounts). Annual increases range from $120 (Richardson Court and Union Drive traditional-style double without air conditioning) to $255 (using a double room as a single in the new Geoffroy Hall). Actual annual rates would range from $4,106 (non-air conditioned quad) to $8,773 (Geoffroy super single).
The exception is Schilletter and University Village apartments, where the proposed increase is 2 percent ($97-$117).
For purposes of annual comparison, a double room (no AC) and Gold meal plan (235 meals and $100 dining dollars per semester) would go up $161 (1.9 percent) for the year, from $8,356 to $8,517.
ISU Dining has made changes to its student dining options, eliminating some plans and introducing others. Meal plans would go up less than 1 percent. The popular Gold plan would go up a proposed $28, to $3,955.
A 50-meal block would go up $29 (about 3 percent) as proposed, to $550. The proposed "door" rate for breakfast in a dining center would go up 25 cents, to $9.50. The lunch/dinner rate would go up $1.25, to $12.50.
The board will review housing and dining rates next week and vote on them at its April meeting.
Franklin Park sale to the city
Iowa State would like to sell to the city of Ames a four-acre park on South Franklin Avenue for $166,000. The city has leased the parcel from the university since 1960; the lease most recently was renewed in December. Last month, city officials indicated their desire to purchase the property and maintain it as a park.
Iowa State first bought the land in the early 1940s and used it for offices and temporary housing. Prompted by the lease review last year, university officials decided the property no longer was critical to Iowa State's mission.
If the board approves the sale, proceeds would be used for strategic investments, including deferred maintenance projects.
Faculty presentations to the board
Iowa State faculty are scheduled to make these informational presentations to the regents:
"ROTC Contributes to Excellence in the U.S. Armed Forces," Scott Curtis, Navy ROTC professor and chair of naval science; Ethan Dial, Army ROTC professor and chair of military science and tactics; and William McTernan, Air Force ROTC professor and chair of Air Force aerospace studies, presented to the academic and student affairs committee, Wednesday, 1 p.m.
"ISU Faculty Elected to National Academy of Science," Distinguished Professor of statistics Alicia Carriquiry and Distinguished Professor of veterinary microbiology and preventive medicine James Roth will make short presentations on their research and its relevance to the state and nation, presented to the full board, Thursday, approximately 11 a.m.
Other business
Elsewhere on the agenda, Iowa State will seek permission to:
Revise the general catalog for 2017-18. Proposed revisions include adding 107 courses and eliminating 125 courses, a net decrease of 18 courses. The new courses are primarily due to new program and certificate offerings. The most significant activity is in the colleges of Design (adding 23 courses, dropping six), Engineering (adding 14, dropping 46) and Liberal Arts and Sciences (adding 38, dropping 37).
 As approved by previous board action, appearing for the first time would be: B.A. in criminal justice; B.S. in entrepreneurship; minors in geographic information, public relations and urban studies; and a graduate certificate in business analytics. Deletions from the catalog would be the M.S. and Ph.D. programs in botany.
Eliminate the Community College Policy Center in the School of Education due to faculty retirements and attrition and the interdisciplinary Information Infrastructure Institute due to changes to both internal funding and the nature of the research in this area.
Purchase the tennis practice facility on South Dakota Avenue from Dickson and Luann Jensen for $2.7 million. Last April, the board approved a five-year lease on the facility with a purchase option anytime during the lease period.
Sell approximately $9 million in bonds on behalf of the residence department to refund in advance the 2018-28 maturities on a 2007 bond sale that helped pay for two dining center renovations (Oak-Elm and Maple Willow Larch). Anticipated lower interest rates would save the university an estimated $484,000.
A regents system internal audit team has completed its review of Iowa State's weapons storage and transportation policies and practices, in connection with the fall audit of ISU flight service. The board's audit and compliance committee will receive a summary of that audit Wednesday afternoon.