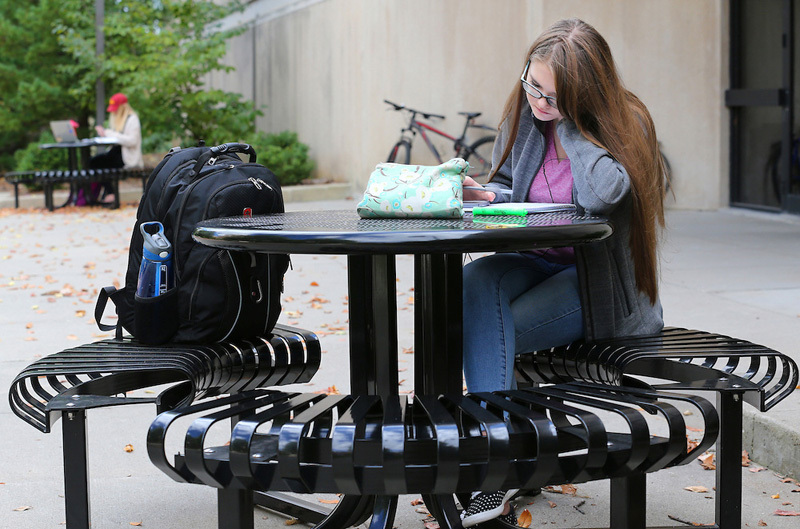 Thanks to surplus funds in student government's coffers, faculty, staff and students have several new places to perch on campus.
Student government initiated a bill last spring to purchase sturdy outdoor tables and chairs that Iowa Staters can use for studying, eating lunch or simply relaxing. The bill passed and student leaders earmarked $115,000 for new tables. Installation began in August and, so far, 26 tables have been installed with more to come.
The black, metal tables with attached benches offer picnic-table-style seating and accommodate four to six people comfortably. Of the 26 tables, 22 are round and four are oval. Five of the round ones are equipped with a metal umbrella and bolted to the ground. The others tables are moveable, though their hefty weight of about 300 pounds makes it unlikely they will "walk" -- or blow -- away.
"We needed to keep the tables moveable to make clearing snow easier for facilities planning and management staff in the winter," said Rhonda Martin, landscape architect.
Martin added that FPM would enlist the help of skid loaders to move the tables when necessary.
Table locations
FPM placed the tables in certain locations based on several factors, according to Martin. They needed to be installed where there was pavement, a need for seating and where they wouldn't block pedestrian traffic.
The umbrella tables are east of the Durham Center. Other tables purchased by student government were placed in these locations:
College of Design, east side
Human Nutritional Sciences Building, west side
Sweeney Hall, northwest corner
Durham Center, northwest corner
Howe Hall, east side
Hoover Hall, west side
Black Engineering Building, northeast corner
Beardshear Hall, south side
Between Carver and Music halls
Additional tables
The colleges of Agriculture and Life Sciences and Business also purchased tables for use outside Curtiss Hall and the Gerdin Business Building, respectively. Four tables are located east of Curtiss and one is east of Gerdin.
Other colleges and units interested in purchasing tables should contact Martin at rhjmarti@iastate.edu or 294-9885. Tables run between $1,500 and $2,500; umbrellas are an additional $2,700.