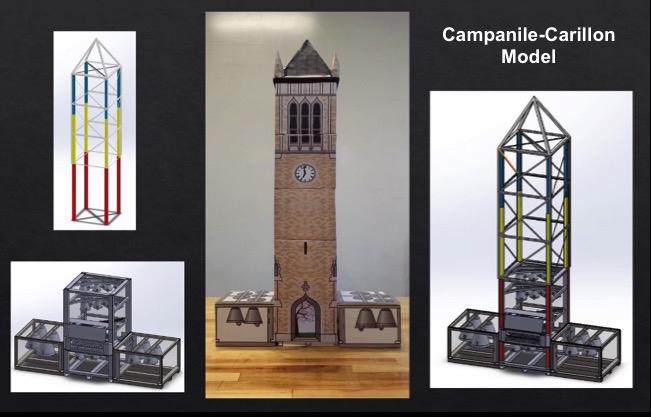 A two-year project that will involve students and faculty from several departments was unveiled April 26 at mechanical engineering's spring semester design expo. Students in a senior capstone course presented their concept design that would make possible a fully functional -- and portable -- one-fifth scale model of ISU's iconic campanile and carillon.
"Something exactly like this has never been done before, so it's difficult to benchmark it," said James Heise, senior lecturer in mechanical engineering and capstone coordinator. "There's a lot of engineering left to be done yet, but I think they've got a very strong concept here."
Learn more
Plans, updates and fundraising information are available on the project website.
Tin-Shi Tam, Cownie Professor of Music and university carillonneur, served as the project client. The students were given a set of requirements, which included easy assembly, good acoustics and indoor/outdoor use. Tam also requested visible mechanisms, allowing viewers to see the bells being struck as the instrument is played.
Teams worked on different elements of the design, including a 16-foot custom hydraulic trailer and a tower lift system. A pallet jack would transport the model, with sections small enough to fit through double doors and on elevators.
The carillon's 27 bells would be distributed among three detachable sections that form the base of the design, which also includes the playing console. A collapsible tower framework and detachable panels would create the campanile's likeness. When assembled, the model would measure 20 feet high and weigh about 1,600 pounds.
Next steps
The mechanical engineering students will hand off their designs and recommendations to the next capstone class. Students in civil engineering, industrial design and music also will be part of the project as it moves forward.
"If everything goes smoothly, and all the work has been done, we are looking at the spring of 2018," Tam said.
A fundraising campaign also is underway. Based on their design, the students anticipate the total cost of the project to fall within the $225,000 budget.
The teaching and learning process for the project's design and construction also will be part of the finished project's purpose. Tam said plans for the model include outreach demonstrations, music education and performances.