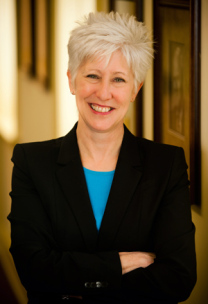 Laura Dunn Jolly, professor of textiles, merchandising and interiors at the University of Georgia, Athens, has been appointed the next dean and Dean's Chair of the College of Human Sciences, effective July 5.
"Laura is an accomplished leader with outstanding experience in teaching, research, and extension and outreach," said President Steven Leath. "I am confident she will build upon Iowa State's excellent reputation in the human sciences, broaden the range of interdisciplinary experiences available to our students and faculty, and expand the college's impact in every corner of the state and beyond."
Since joining the University of Georgia in 2007, Jolly served three years as dean and associate director of cooperative extension and experiment station in the College of Family and Consumer Sciences, and five years as vice president for instruction. Her administrative assignments include six years as chair of interior design, merchandising and textiles at the University of Kentucky, Lexington. Her academic career includes faculty appointments at Texas Tech University, Oklahoma State University and the University of Tennessee.
"I am honored to serve as dean of the College of Human Sciences," Jolly said. "It's a great and diverse college with an exceptional history and a bright future. I look forward to working with faculty, staff and alumni to help our programs reach new heights, and equip our 5,000 students with the skills and cultural literacy necessary to improve the human condition."
Jolly earned a bachelor's degree in vocational home economics education from the University of Mississippi, Oxford; and master's and doctoral degrees in clothing, textiles and merchandising from Oklahoma State.
She succeeds Pam White, a faculty member in food science and human nutrition for more than 40 years, who has served as college dean since 2009 and as interim dean several times prior to that. Last fall, White announced she would retire this summer.