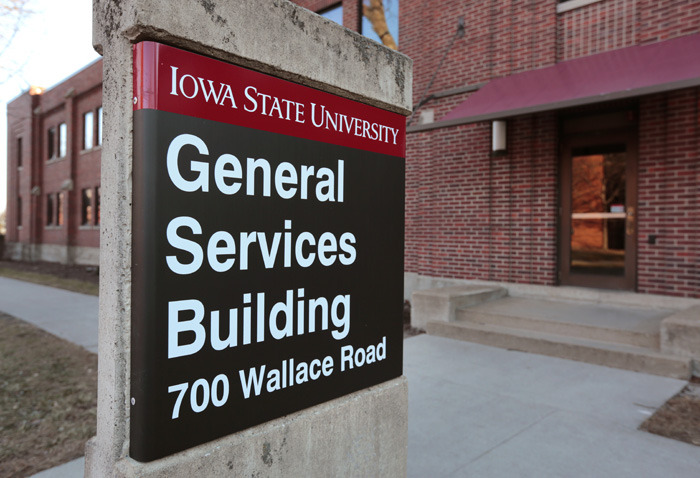 Street addresses for all campus buildings, first shared with the university community in October, went into use on Jan. 1. Implementation of several components of the project -- such as updating building signs and the online directory or reordering stationery -- will continue for several months.
In addition to academic and residence buildings, the project assigned a street address to all parking lots, storage facilities, utility sites and outdoor recreation and athletics areas. Places such as the campanile and Lake LaVerne even have their own addresses.
Learn more
A project website includes a building address list and a useful Q&A.
Online directory
An IT services team is recoding Iowa State's online directory to create space for street addresses and update other interfaces. That work will continue into March, but sometime in February full street addresses will be loaded into the directory, attached to building addresses. So, in the future, employees who change office locations would only need to update their building address via AccessPlus; the correct street address automatically would follow.
In the meantime, full street addresses are available now in two online locations:
Department coordinators who maintain the departmental section of the online directory have responsibility for updating those directory entries with street addresses. Departments and units also are responsible for adding street addresses to contact information in the websites they maintain.
Business cards, letterhead
In late November, the U.S. Postal Service finished assigning ZIP+4 codes for campus buildings that receive mail -- the final piece of a building's street address. (USPS currently is assigning ZIP+4 codes to all residence halls and campus apartment buildings).
Printing services has revised its templates to add a line for a street address. Customer service coordinator Lana Voga said street addresses automatically are added to printed products when orders are placed.
The new business card templates, for example, now feature either seven or eight lines for text, depending on which university nameplate is selected (with or without the "of science and technology" line). Revised templates for letterhead and a business envelope also are available.
"We're encouraging employees to use up their current business cards and letterhead," Voga said, not only because supplies shouldn't be wasted, but because it will help printing services process orders more efficiently.
University marketing director Carole Custer said the goal was to accommodate building street addresses while maintaining the look of existing layouts. Custer offered these reminders as employees reorder printed products in the coming months:
A business card is not a mini resume. Its size limits the information it can contain. An employee with multiple titles should pick the one title that best represents her or him to the most people. Think through that decision carefully.
To keep costs down, a one-sided business card is the standard. Two-sided exceptions are made for employees who need a business card in two languages or who have joint appointments in separate units.
For consistency, printing services should provide all stationery items and business cards. It's actually more economical to have printing services print your letterhead than to create and print your own as correspondence is completed.
Stationery items (letterhead, envelopes, notecards) should not include personal names, just unit names.
Building signs
The brown panels on outdoor columnar building signs will be removed and refinished in a phased process that begins in the center of campus and proceeds outward, finishing with the Frederiksen Court student apartments. That process has begun and should wrap up by the end of the semester. A refinished sign will include the red and white university nameplate, building name and its street address. Due to space restrictions, unit names will not be included on building signs.
Google Maps
FPM web technologist John Hoffman, who also is a regional lead for Google Maps, has added campus street addresses to the ISU building features on Google Maps. Viewers can search either by building name or address, as well as use Google's "Directions' feature for walking or driving on campus.
Mail from off campus
Individuals and units are responsible for alerting their own vendors, clients and associates to their updated address. For example, when it's time to renew a journal subscription or professional membership, include your building street address in your contact information.
Landscape design services project manager Chris Strawhacker, who's overseeing the project for FPM, said a primary reason for street addresses is to integrate campus with the local emergency response system and shorten response times for emergency personnel. Street addresses also should help visitors with wayfinding and simplify the task for package delivery and ride services.
Related stories
Street address system for campus buildings is nearly ready, May 7, 2015
Campus building addresses are set, Oct. 15, 2015