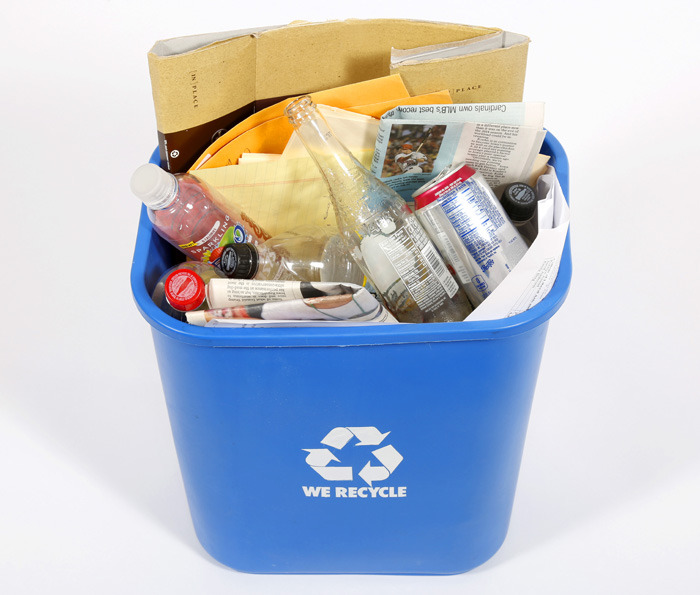 Recycling is a whole lot easier on campus this fall. Iowa State's new four-year recycling contract with Waste Management allows a big variety of recyclable materials to land in that blue bin under your desk previously reserved only for white paper. Known as both "mixed stream" and "single stream" in the recycling world, it will free employees from hunting for the appropriate bin or box for their newspaper, Coke can or used white paper.
So, go ahead and pack it all in: white and colored paper, newsprint, journals, phonebooks, catalogs, press board boxes, folders and envelopes. Paper clips and staples are OK. Mixed stream also includes beverage and food containers – whether glass, metal or plastic. But recycling coordinator Sue Mallas recommends that recyclers rinse containers to cut down on odors and avoid future problems with bugs and other pests. And keep straws and plastic forks and spoons out of recycling bins; those still are considered trash.
Offices that collect their beverage containers for the 5-cent deposit are welcome to continue those efforts, Mallas said.
Not included
The recycling contract with Waste Management doesn't cover all materials. Some campus recycling programs, involving other vendors or processes, will continue as they have been. These include:
Corrugated cardboard. Use the metal recycling cages located outside of buildings.
Laboratory glass. Square yellow buckets in labs for used laboratory glass are emptied into larger yellow bins on loading docks. Campus services teams take the large bins to the city's resource recovery plant for recycling.
Confidential documents. Iowa State uses a bonded vendor who shreds and recycles documents.
Tuesday is the day
Waste Management will collect recyclables from campus loading docks (or other outside locations) every Tuesday. Mallas said the local manager's intent is to arrive on campus about 4 a.m. and wrap up collection by 9 a.m. The Waste Management team will start in the central campus core and work its way out to the edges of campus. The closer your building is to central campus, the earlier the pickup will be, she said.
Interim summer
The unanticipated closing in late January of Ames Area Redemption Center, ISU's previous paper and food/beverage container recycler, forced ISU facilities leaders to patch together a plan that wouldn't interrupt campus recycling. For the last seven months, campus services crews transported all recyclables from building containers to a Waste Management collection site in Des Moines.
The mixed stream practice began "and we really liked the efficiency of it," Mallas said. It became a key part of the bid request as the university sought a new recycling vendor.
Director of sustainability Merry Rankin said she's excited Iowa State can offer mixed stream recycling for the long term.
"This should reduce the number of office containers and eliminate confusion about separating materials or concern about 'contaminating' designated recycling containers," she said.
Rankin said she's hopeful that the freedom to mix recyclable materials will free up some large wheeled containers, allowing the university to expand recycling options to more campus locations.
Service under the Waste Management contract began Sept. 22 and continues through June 30, 2019. Questions about recycling may be directed to Mallas, 294-0692.
Related articles: