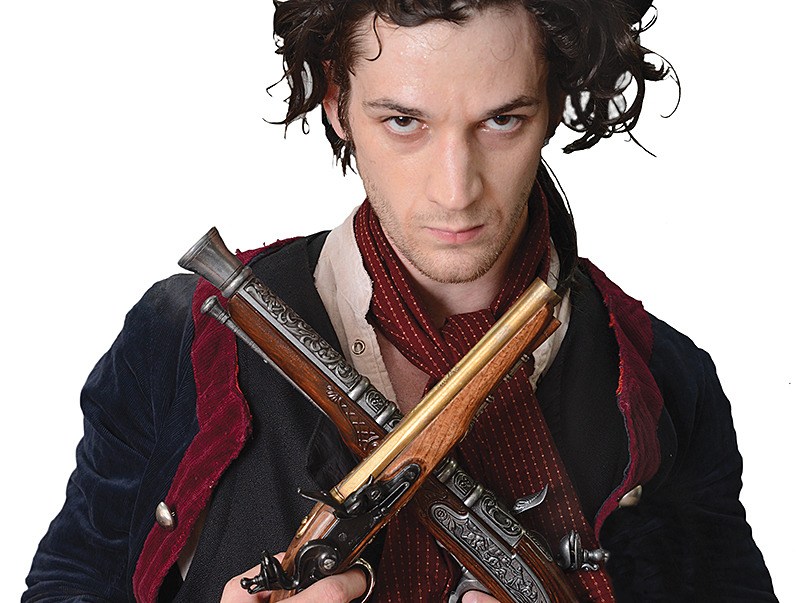 ISU Theatre kicks off its 2015-16 season in swashbuckling style, with a production based on Robert Louis Stevenson's Treasure Island. The show opens its two-weekend run Oct. 2 in Fisher Theater.
Junior Adam Kroksh is cast as Jim Hawkins, a boy in search of adventure with a treasure map in hand. He finds it on the high seas, and in the company of Long John Silver, the famous one-legged pirate played by senior Christopher Kent.
The quest puts young Jim in the path of dangerous villains, including Billy Bones (senior Tyler Filipp), Anne Bonney (sophomore Mycailah Salvador), Israel Hands and Blind Pew (both characters played by senior Austin Farwell). The family-friendly production, directed by professor Jane Cox, features choreographed fight scenes and stage scenery designed by alum Erica Zaffarano.
Audience members are invited to linger after the performances for photos with the pirate-clad cast. Friday and Saturday show times are 7:30 p.m., Sunday matinees begin at 2 p.m. Tickets are $18 for adults, $16 for seniors and $11 for students, and are available through Ticketmaster and the Iowa State Center box office. Season tickets ($68-$99) also are available through the Iowa State Center.