Wind turbine is symbol of renewable energy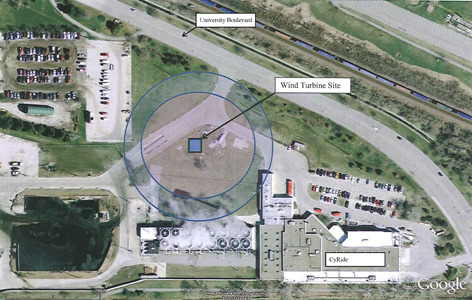 Wind turbines are almost as common as red, gambrel-roofed barns on Iowa farms these days. So it's no surprise that a wind turbine soon will rise from the soil of Iowa State's campus as well.
A small, 160-foot, 100-kilowatt turbine, which the state Board of Regents approved at its Oct. 25 meeting, will be erected between the university power plant and CyRide facility in the northeast corner of campus. Soil boring at the site is complete and foundation work will begin in mid-November. The turbine should be up and running before the end of December.
"We have considered a small wind turbine on campus for a couple of years," said David Miller, associate vice president for facilities planning and management. "We identified year-end funding in 2012 to be able to develop the project's scope and to go out for bids."
Initial cost of the project is $250,000 plus the cost of all electricity generated over the next 10 years.
Sky high
The new wind turbine will measure about 160 feet high, from the ground to the tip of the blades. By comparison, the Marston Water Tower is 168 feet tall and the power plant smoke stack rises 230 feet into the air.
Energy production
The turbine will produce 183,330-kilowatt hours of energy annually, which is similar to the amount of electricity consumed by Catt Hall, East Hall or the Hub each year. This unit will generate 0.12 percent or $18,000 worth of Iowa State's annual electricity needs.
"This small wind turbine is more of a visual symbol of our support for renewable energy," Miller said. "It will be located along University Boulevard and will become a visible landmark for all who visit our campus."
Larger turbines, like those dotted along Iowa's rural landscape, are not feasible at Iowa State due to the university's proximity to the Ames airport.
Wind energy not new to ISU
This turbine is not Iowa State's first foray into wind energy. The university is part owner of a large wind farm in northern Story County, which generated 8.5 percent of the campus' electricity in FY12.
But with this latest project, the only thing Iowa State owns is the plot of land on which the turbine will sit. PUREnergy of Ohio will own the turbine; Northern Power Systems from Vermont will construct the unit.
"Because we are a public entity, we cannot take advantage of either tax credits or renewable energy rebates," Miller said. "The bid was structured so that the vendor owns the unit and will provide all maintenance, while the university leases them a small parcel of land [about 50-by-50 feet] and assures that we will take all of the power generated. "
Miller said this arrangement allows the vendor to retain tax credits and renewable energy rebates, and makes the price for wind energy more attractive to Iowa State.
Teaching tool
Once the turbine is finished, facilities planning and management will live stream data from the turbine.
"It could be used by ISU students or middle school students studying energy anywhere in the world," Miller said.