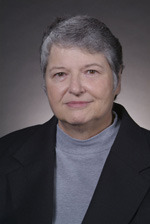 Vice president for research and economic development Sharron Quisenberry has announced her retirement. A professor of entomology, Quisenberry has led Iowa State's research programs since April 2009. She steered the university through a tumultuous research climate over that time, achieving significant gains in external research funding and technology transfer.
Iowa State reported $360 million in external research funding in FY12, an increase of 5.3 percent from the previous year.
Quisenberry will return to the entomology faculty on Jan. 1, 2013, where she will work on special initiatives including the President's Committee on Institutional Excellence, Iowa State's Health Research Initiative, the National Science Foundation Strengthening the Professoriate program and networking with colleagues to enhance the university's research mission. She will retire from the university on July 1, 2013.
Senior vice president and provost Jonathan Wickert will name an interim vice president in the coming weeks and initiate a search for Quisenberry's successor.