The seventh graders picked up pushpins and started digging into their wet corn kernels.
It was a lesson in basic seed biology. The task of the day was to find, identify and separate the four basic parts of a kernel: the tip cap, the endosperm, the pericarp and the germ.
"Oh, look at that," Paul Skrade told one student, "look at how awesome your corn kernel is."
When another student started dissecting before he had labeled the seed parts on a diagram, Skrade asked him to backtrack.
"I know you know the answers to this," Skrade said. "You're doing awesome today, dude."
As the students in Amy Kissell's morning classes at Brody Middle School near the Des Moines International Airport found the endosperm -- the floury starch that feeds the development of seedling plants -- Skrade noted that's also where Doritos come from.
Skrade -- friendly, chatty and energetic -- certainly knows his way around a science lesson. He's an Iowa State doctoral student studying ecology and evolutionary biology. And he's a fellow of Symbi, a program that places Iowa State graduate students in Des Moines middle and high school science classrooms.
Hands-on learning, communicating
Apply by Nov. 15
The Symbi program is taking applications from graduate students who want to work with Des Moines school students.
Symbi is known as "Iowa's GK-12 Program" and it's the only program of its kind in the state. It's part of a National Science Foundation's effort to put graduate students studying science, technology, engineering and math into K-12 classrooms. And it's a chance for Iowa State students to inspire school students and their teachers with the excitement and importance of science, engineering and university research, said Basil Nikolau, the Frances M. Craig Professor of Biochemistry, Biophysics and Molecular Biology and leader of the grant proposal that launched Symbi.
Once a week, the program sends its selected graduate students to participating Des Moines secondary schools for an entire school day. They work with classroom teachers as resident scientists and engineers.
Symbi has one overarching goal for all that classroom activity, said Adah Leshem, the director of Symbi and of pre-college education programs for the National Science Foundation Engineering Research Center for Biorenewable Chemicals based at Iowa State. That's for graduate students to learn how to communicate their scientific research to non-scientists.
Kissell, who is in her 14th year teaching science, said the Symbi program is contributing to one of her best years working with students.
"Working with Paul has been awesome," she said. "He brings new ideas into the classroom. He really supports my philosophy of hands-on learning and connecting learning to the world."
Kissell said students look forward to Skrade's weekly classroom sessions. And she does, too -- it's a big help to have a second instructor in the classroom.
She also likes the extra training and resources the program provides for her classroom.
"I hope the program continues," she said. "It has been a great experience for me."
NSF-funded program
The Symbi program is in its third year. It was launched and has been supported by a five-year, nearly $3 million grant from the National Science Foundation. Leshem said program organizers hope the program can continue as a part of Iowa State's science outreach and education efforts.
There are three good reasons to keep it going, she said: One, graduate students do learn to tell people about their science. Two, teachers are learning new ways to teach science, technology, engineering and math. And three, school students are interacting with real researchers on a weekly basis.
"Kids just love having these exciting young scientists and engineers in their classrooms," she said. "That is so cool."
Students, meet Mr. Scientist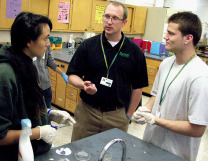 Patricia Mendez, a senior, and Eric Markham, a junior, carefully added bacteria to petri dishes. This was a session of Eric Hall's biology II class at Hoover High School in northwest Des Moines. The two students were at a lab table preparing an experiment.
They wanted to test the effectiveness of different anti-microbial solutions on living bacteria. And so they used a puddle of distilled water to collect bacteria. They cut paper disks and loaded them with anti-microbials. They put the bacteria and the disks together in a petri dish. Then they'd wait a few days before measuring and analyzing what happened.
Working the classroom and lab space was Tom Garrison, an Iowa State doctoral student in chemistry. He answered questions. He offered advice. He worked with Hall to teach the students a thing or two about working with bacteria in the lab.
He was a welcome addition to the classroom.
"He gives a different perspective than the teachers," Mendez said. "He's somebody who has been in the field. He gets us to learn a little more."
Added Markham, "He makes it more interesting to learn."
Hall, who's in his 17th year of teaching science, joined the Symbi program after building a strong partnership with Iowa State through summer research experiences for teachers and other campus programs.
"This was the next logical step," he said.
And so, once a week, Garrison spends the day teaching Hoover students about biology and chemistry. He has a background in engineering, chemistry and industrial research and development. He's friendly and thoughtful with the students.
"He is a scientist," Hall said. "He offers a way of thinking about science that kids normally never get. They can see what it takes to get to that position."
Garrison, who's researching polymers as part of his graduate studies, applauds the Symbi program for "putting a face on science."
"I never met an engineer until I went to go get an engineering degree," Garrison said. "And I never really talked to a scientist until I went to college. I think that's too late."