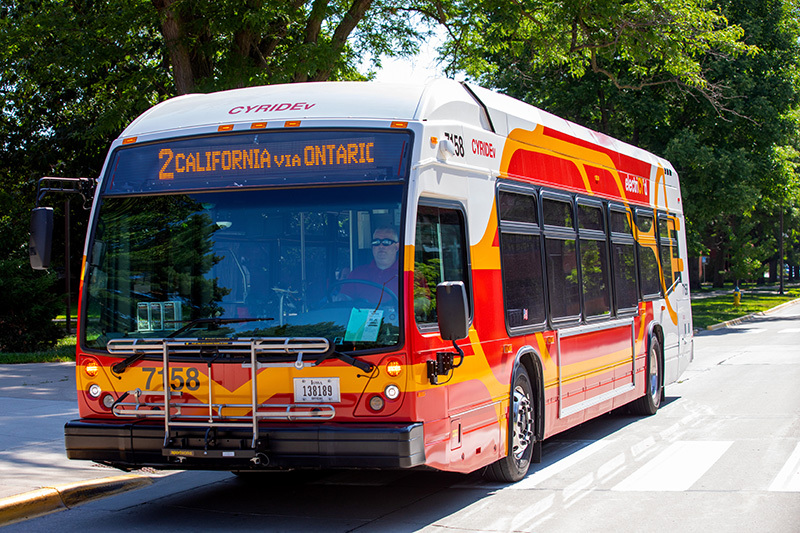 The CyRide fleet received a jolt this summer with the addition of two electric buses.
Built by Nova Bus, the manufacturer of CyRide's articulated buses, the long-range distance, 40-foot buses can cover a daily route on a single charge. There are two recharging stations housed indoors at CyRide where the buses are plugged in and require about four hours to fully recharge. Every CyRide driver will be trained on the new buses, which have a training hours requirement to operate, just like the articulated models.
"Overall, I don't think riders will notice a difference between them and our regular fleet," said Christine Crippen, assistant director for operations. "The electric buses have the same design and hold the same number of passengers, but they do lean a little bit more when going through roundabouts and other tighter turns."
The batteries are stored at the top of the bus, contributing an additional 7,000 pounds of weight compared to a 29,000-pound diesel bus. The batteries charge whenever the brake is applied or a bus is not moving.
The electric buses will run on the Plum and Green routes because both pass by the CyRide garage. Crippen said it will take at least a year in use to understand their capabilities and limitations. For example, severe weather -- both heat and cold common in the Midwest -- may impact bus efficiency and battery life.
Each bus had a price tag of just under $1 million, funded by CyRide's three financial partners: the city of Ames, Iowa State University administration and Iowa State students through a student fee. They arrived in Ames in May and since then, CyRide staff completed several tests and installed additional locators and cameras.
Fully electric?
The city has tried to add electric buses since 2019, but a combination of demand, supply chain issues and the pandemic-delayed delivery slowed arrival. Crippen said additional electric buses are in future budgets, but continued supply chain issues are anticipated to drive costs above $1 million per bus.
City staff worked with a consulting firm to determine the best use of electric buses in Ames.
"They came in and studied what the infrastructure could support, and their recommendation was 17 electric buses," Crippen said.
CyRide currently has about 100 buses that service its routes. To go fully electric and cover the same routes, nearly 300 electric buses would be required to account for recharging demands. In addition, Crippen said, the CyRide facility would need an electrical remodel to accommodate all that battery charging.