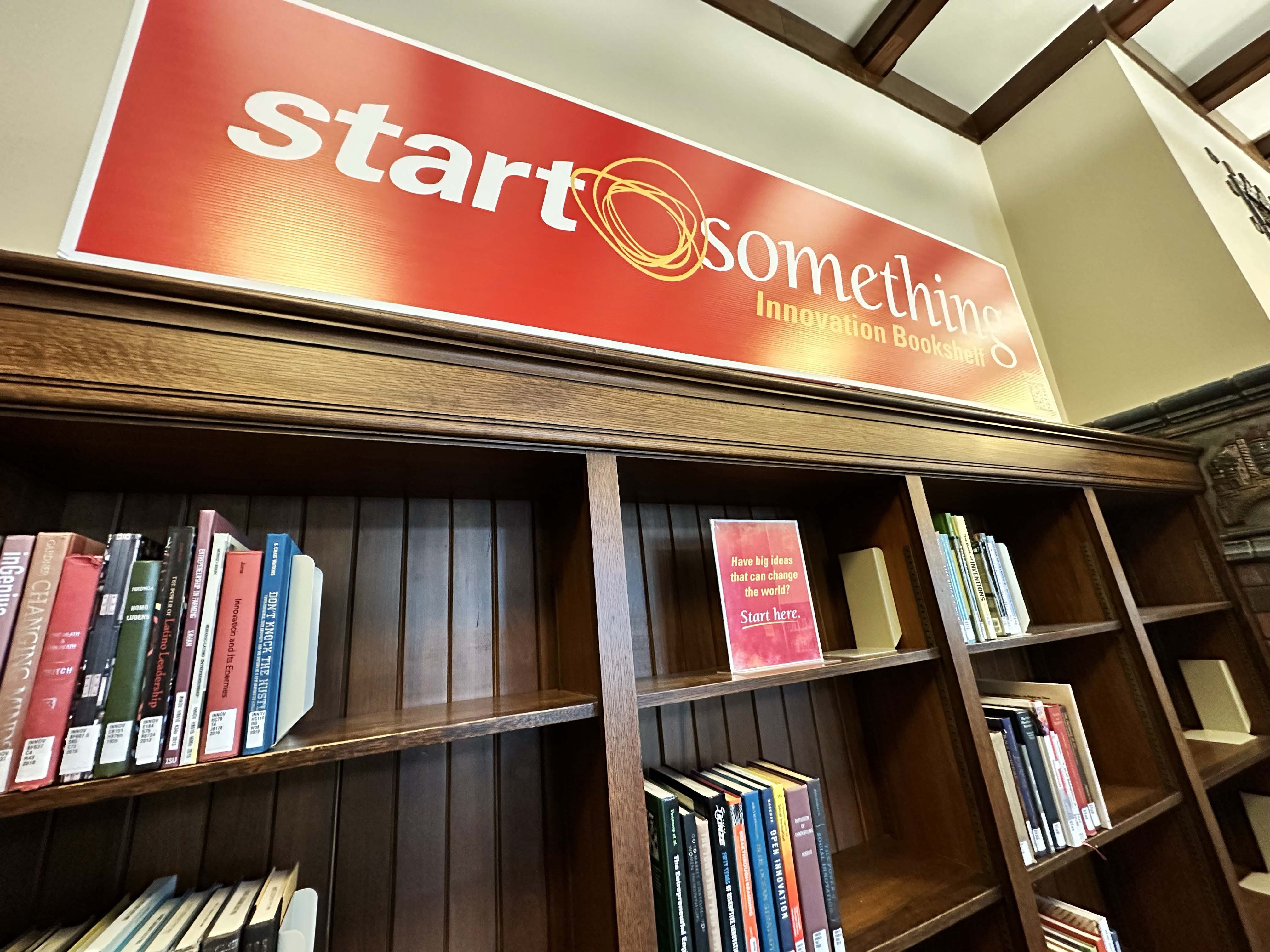 Finding resources to turn creative ideas into projects and start-ups just got a little easier with the launch of the Innovation Bookshelf at Parks Library.
With more than 200 titles so far, business and economics librarian Jeffrey Kushkowski said this permanent collection of print and e-books has something for everyone.
On campus and online
In addition to the physical titles located in the fireplace reading room, you can find the print and e-books in the collection on the library's website. E-books can be accessed by signing into your library account.
Kushkowski said the library has more than 13,000 books on entrepreneurship and innovation, evenly split between print and e-books. The Innovation Bookshelf is a curated collection of high-impact books applicable to any field of study and accessible for employees and students at any point in their innovation journey.
Most of the books on the shelf were chosen from those owned by the university, though Kushkowski also is keeping a list of suggested books to consider purchasing for the collection.
"We're looking at creativity, design thinking, personal growth, communication and books that are relevant for any discipline," Kushkowski said.
Creating the collection
"Curate a motivational innovation collection in the fireplace reading room," read the sticky note on the cover of "Fifty Years of Disruptive Innovation" by Kinze Manufacturing, the book donated by the senior vice president and provost on behalf of the president's office that started the Innovation Bookshelf.
To grow the collection, Kushkowski asked colleagues for titles of books related to innovation and reached out to Start Something leaders for photos of their bookshelves. From there, he began the process of selecting the books.
"We have book exhibits that happen periodically throughout the year for different events, but this bookshelf would be the first permanent collection of its kind," said Kushkowski. "The collection is geared towards the campus community and it's here for people to use."
If you have suggestions for books to add to the collection, contact Kushkowski at kushkows@iastate.edu or 515-294-2408.