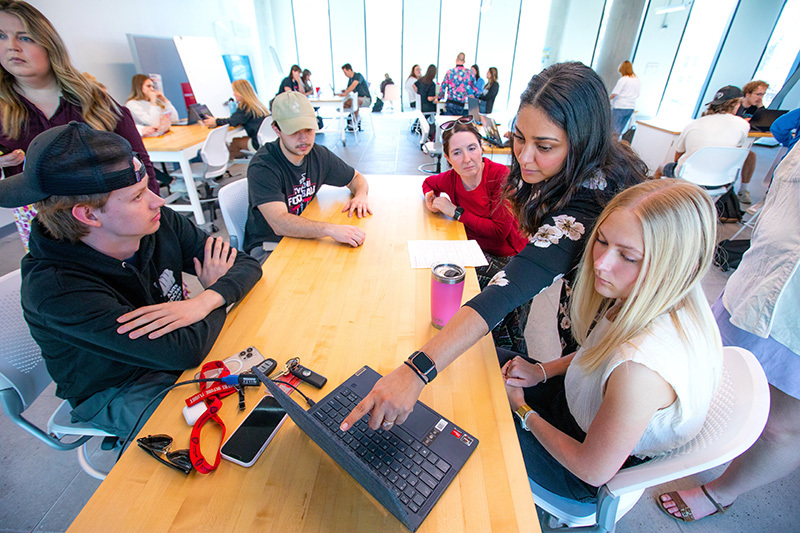 Innovation or organized chaos?
It's the question four faculty members pondered on Thursdays this spring. A week before classes began, they devised a plan to teach their courses by putting the full purpose of the Student Innovation Center to work, creating an interdisciplinary learning session led by students.
Teaching team and their classes
Ana Luz, interim director of innovation programming, Student Innovation Center; and associate teaching professor, industrial design, DES 150 Introduction to Innovation and Design
KP Williams, assistant teaching professor, leadership studies, LD ST 370 Leadership, Entrepreneurship and Innovation
Leila Ammar, associate professor of practice, architecture, DES 340 Design Entrepreneurship
Alex Dill, assistant teaching professor, industrial design, IND D 330 Creative Thinking
Lexi Young, graduate assistant, horticulture
Rebecca Nation, learning and development specialist, Student Innovation Center
Eva Newland, peer mentor, journalism and mass communication
Lucy Hawblitzel, peer mentor, graphic design
"We were going to bring different perspectives from across campus to have this opportunity for experiential learning that is student-centric to the max," said leadership studies assistant teaching professor KP Williams.
Each instructor teaches their course, linked to innovation or entrepreneurship, on Tuesdays, but Thursdays brings the four classes -- ranging from 50 to more than 100 students -- together in the innovation center for more than an hour of "creative recess," an innovation ideas' incubator.
"The Student Innovation Center staff conducted several focus groups with students from across campus with different majors, and they returned a consistent message of 'wanting a safe place to think,'" said Ana Luz, interim director of innovation programming at the Student Innovation Center. "That led to us dedicating half our classes to creative play, where they can come together and bounce ideas off each other."
The instructors are in the room to be guides and mentors, but students with different majors and backgrounds work individually or in groups on topics that interest them. That included participating in the college-by-college pitch off competition earlier in the semester and continued with projects for last month's Innovation Fund Challenge.
Williams is the primary instructor for the large group sessions, horticulture graduate assistant Lexi Young serves as an assistant across all four courses and Eva Newland and Lucy Hawblitzel are undergraduates in journalism and graphic design, respectively, who act as peer mentors. They bring different perspectives that spark ideas and discussion.
Recess
The semester began with more structured Thursdays to provide students with basic concepts of innovation, Williams said. The focus also was on students identifying a project they could develop over several months.
"We did not put any limits on them and were very intentional about ensuring there was cross-collaboration between the classes and colleges," he said.
Groups of students formed around ideas to build pitch proposals, often with peers from other majors who brought new ways of looking at the idea. Creative recess -- which brings together students from five colleges and includes more than 10 majors -- is open not only to the students taking one of the four courses, but any ISU student available during that time.
"In the groups, designers are immediately thinking about logos and sketching out product ideas, and the business students think about it practically and how to make it profitable," said Leila Ammar, architecture associate professor of practice. "It really represents the real world because you bring in people that have the expertise to add to your team."
Forty-two undergraduates -- 11 teams and eight individual projects -- worked from February through April on ideas and pitches before presented at the Innovation Fund Challenge to win some of the $20,000 available. Those who didn't reach that mark still can earn scholarship money by presenting during finals week.
"Students awarded funds for the Innovation Fund Challenge continue the project next year," Luz said. "The bookend of this story is that most of these students will be mentored in the next year by those people judging them, and as happened in the past, some of them end up getting jobs with companies the judges come from. We created an innovation readiness pathway for our students."
Impact
This semester has been a learning experience for instructors and students, but Williams can imagine the potential impact.
"Five years, two jobs or two careers from now, I hope these students are saying, 'This made my experience because it was so different from every other course,'" Williams said.
Luz believes the team created a model other faculty could use -- scaling up or down as needed -- to enhance learning by bringing classes together. The faculty involved in "creative recess" already have committed to do it again next spring.
"Co-teaching is hard," she said, "but if faculty are all committed and engaged, so much can be gained."
Student reaction
Williams said most of the students -- covering all levels of undergraduates -- embraced the new teaching format, even if he detected skepticism early on.
"For students, it has been both intriguing and very challenging because it's not what any student has experienced," he said. "We pivot from week to week as opportunities happen."
Three of the instructors required students to develop a pitch off competition idea, so about 100 worked on those during Thursday's recess activities. The results included college winners and placers at the finale. Students whose interests didn't include pitch development could submit alternate assignments to complete the course, Williams said.
Instructors spent Tuesdays focusing on content specific to their courses and how it could be applied to large group discussions. Students also were asked to reflect and apply what they were gaining from the large sessions into their class. The faculty met weekly on Wednesday to plan and address any issues.
Ammar was the only professor who had to rework her class schedule to match the 11 a.m. meeting time, but only after polling students about their desire to take part in weekly large-group interactions.
"To start, 10 of my students were design majors and one was a business major, but she has since changed to industrial design," Ammar said. "She took the class to see how it was different to think of entrepreneurship in a design, not business, way -- and changed majors."