Last year, about 87% of Iowa State's roughly 25,800 undergraduate students relied on some form of financial aid to help pay their education bills. All that aid added up to $344 million. For 53% of the recipient group, at least part of their assistance was considered need-based, as determined on the Free Application for Federal Student Aid (FAFSA).
Each student's aid package is some combination of grants, scholarships, loans and work-study earnings, provided by a combination of federal, state, university and corporate/private sources. It's not a simple, one-for-all type of formula, student financial aid executive director Roberta Johnson and her colleagues told the state Board of Regents last week. Johnson, who will retire from Iowa State in July, said the ratios shift a bit every year. They also shared their optimism that changes coming this fall to the FAFSA process could ease the squeeze on university and private aid sources.
Total undergraduate financial aid, by source
| | | |
| --- | --- | --- |
| | 2021-22 | 2020-21 |
| Federal | $135.6 million | $150.8 million |
| State | $2.8 million | $2.4 million |
| University* | $142.5 million | $133.4 million |
| Private** | $63.1 million | $62.9 million |
| Total | $344.0 million | $349.5 million |
*Includes need-based and talent scholarships and employment
**Includes corporate and ISU Foundation scholarships, private loans
Federal aid's capacity to cover tuition has declined steadily since 2011. The two largest federal aid pieces are Pell grants and Stafford loans, both awarded according to financial need.
The federal Stafford loan maximum has remained the same since 2008-09, $5,500-$7,500/year, depending on year in school, with a cumulative maximum of $31,500. About 2,900 fewer undergraduates took a federal student loan last year than in 2020-21, reflecting an undergraduate enrollment decline of 1,000, less identified need and the impact of financial literacy efforts, Johnson said.
The maximum federal Pell grant, $6,495 last year, has inched up from $5,550 a decade ago, but the percentage of Iowa State undergraduates receiving any size Pell grant has fallen during that time. Last year, 23% of resident and 13% of nonresident ISU undergraduates received a Pell grant. Johnson said she attributes some of the drop to a national rhetoric critical of the cost and value of higher education. Some students who would qualify for a Pell grant either aren't looking at college at all or choosing to start their studies at a two-year school, she said. Pell grant aid to Iowa State undergraduates last year totaled $23.8 million, down from $25.2 million the year before.
State grants and scholarships remain a very small piece of the financial aid equation, last year about $2.8 million or less than 1% of all undergraduate aid. State programs target very specific student audiences, for example, members of the National Guard, children of police and fire officers who died while on duty or students who have visual impairments.
Local leverage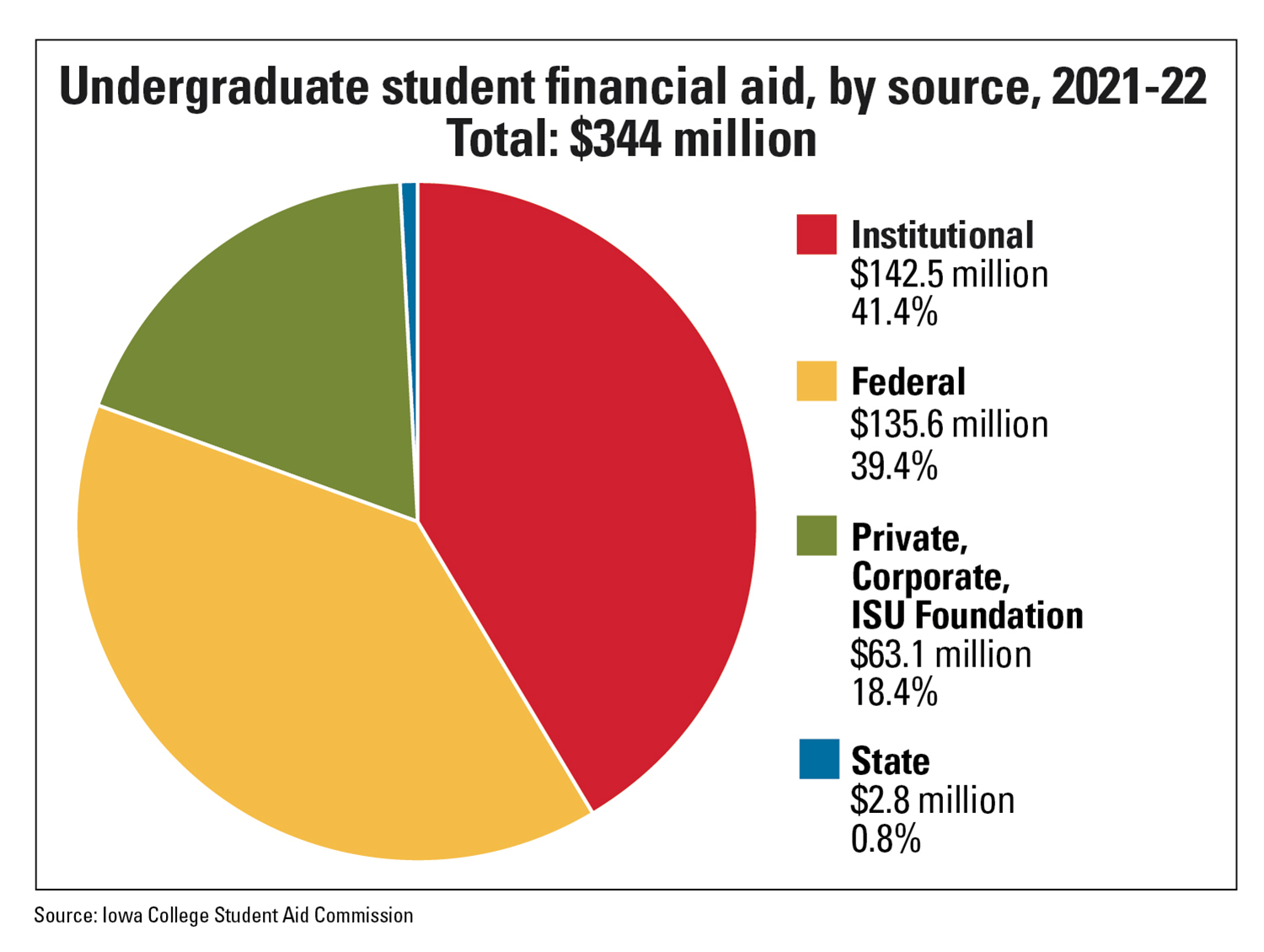 So two local resources have been pressed to make up more of the gap between cost and family resources, Johnson said.
Iowa State is the largest source of scholarships and grants for its undergraduates. From 2020-21 to 2021-22, university grants and scholarships (need- and merit-based combined) increased 5%, from $107.4 million to $112.8 million. During the same time, donor-funded awards secured by the ISU Foundation and the private/corporate scholarships students find on their own increased 2.5%, from nearly $29.9 million to $30.6 million last year.
University funding for campus employment also outpaces federal work study, last year $25 million to $1.8 million.
Johnson called the local aid "the only lever we have."
"Some of our families have great financial need, and as our state's land-grant university, we want to serve them," she said. "But we also need some leverage to recruit students to Iowa State, including those with the expectation their efforts during high school will be rewarded with merit consideration as they're applying to colleges."
Changes to FAFSA could shake up awards
This fall, parents who fill out the FAFSA form for the 2024-25 academic year will notice a big change in its length, from 108 questions to 36. The U.S. Department of Education will retrieve needed data from the Internal Revenue Service for tax filers. Driven by former U.S. Sen. Lamar Alexander and signed into law in December 2020, the shorter form is intended to be less intimidating to the lower income families it's supposed to help. Changes to its calculations should result in more students qualifying for aid. Other key changes to the form:
Each student receives their own Student Aid Index (SAI), eliminating the Expected Family Contribution. Like the EFC, a higher SAI would result in less financial aid. An SAI still assumes a family contribution to the student's education cost, but as is the case now, some families choose to not contribute.
Number of college students in the family isn't a factor, and there's no benefit to having children with overlapping college years.
Filers must provide the net worth of their small business or family farm, absent from the form for several decades -- thus, making it difficult to calculate the impact on aid eligibility. Johnson said she and her regent colleagues are seeking assistance from public and private ag-focused organizations to understand the impact on student financial aid.
For students with divorced parents, the parent who provides a majority of financial support is the filer.
Students don't have to register for the Selective Service to complete the form.
"I'm really hopeful the shift to the SAI will be kinder to our middle income families," Johnson said.
Meghan Oster, research division lead at the state student aid agency Iowa College Aid, said her team calculated SAIs for Iowa residents attending a regent university from past years' data to anticipate changes and trends. She told the regents student SAIs generally will be lower than their EFC, meaning their eligibility for need-based aid would be higher. She said she expects more middle-income FAFSA filers will be eligible for Pell grants.
Johnson said raising the Pell grant maximum also would alleviate some of the pressure on institutional aid. President Joe Biden has proposed raising the maximum Pell grant award to $13,000 by 2029, and Congress approved an increase for 2023-24, to $7,395.
Debt at graduation
For more than a decade, the financial aid staff, through its office of student financial success, has promoted financial aid education for students -- especially regarding student loans -- with the goal of reducing student debt at graduation. That effort has seen results. Last year, 43% of students graduated without any debt. Debt among resident students has dropped to just over $25,000, while debt among nonresident students graduating with debt has risen the last few years, to $35,053. Overall student debt dropped from above $30,000 to $29,454 last year.
Johnson noted that for all students, debt is a combination of cost of attendance, family circumstances and personal choices.
"We strive to make an Iowa State education affordable for all students and provide as many options as possible to mitigate debt for all of our students," she said.
"Bringing graduation debt levels down is a years-long commitment. It's not something you can turn on a dime," she added.