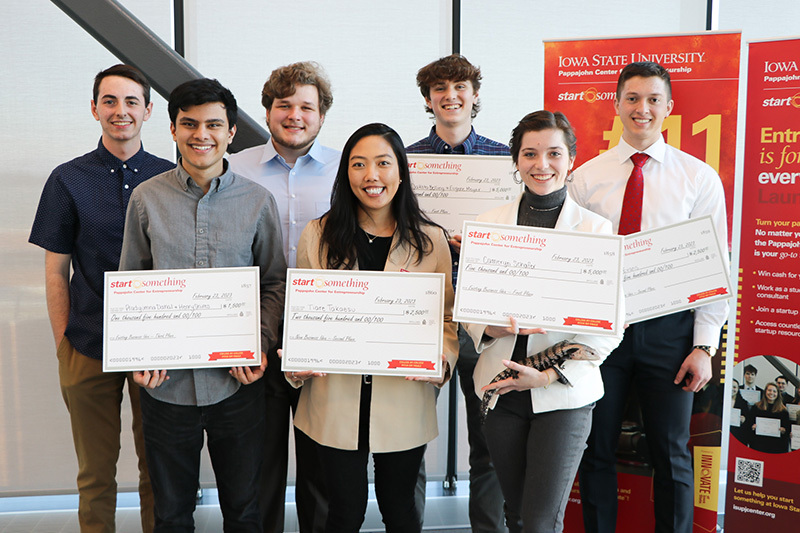 Standing a few feet in front of a panel of judges, student after student made their pitch and confidently answered every question. It quickly became apparent who had the toughest job in the pressure-packed environment -- the judges.
College results
See the top finishers from each college in this spring's pitch off competition.
The sixth annual Pappajohn Center for Entrepreneurship college-by-college pitch off wrapped up last week -- after weather delayed it seven days -- with a campuswide finale. Twenty-five student entrepreneurs stated their case in the Student Innovation Center.
The pitch off series begins locally with students competing against fellow classmates in their college for first- and second-place prizes of $500 and $250 in one of two categories: new idea or existing business idea for plans that have already moved past the concept stage. They get 90 seconds to make their pitch, with two minutes allowed for follow-up questions by the judges.
The top two placers from each college competed in the March 2 finale, where the winners in each category took home $5,000. Second-place finishers received $2,500 awards, third took $1,500 and -- announced after all pitches were complete -- five students received $1,000 honorable mention awards. The judges were Ivy College of Business dean and interim vice president for economic development and industry relations David Spalding, Ames Chamber of Commerce and Economic Development Commission director of business development Dylan Kline, ISU Startup Factory director Peter Hong and digital and precision agriculture biobased sciences platform chief technology officer Nadilia Gomez.
The overall winner for best existing business was Cameryn Schafer, a senior in animal ecology, who pitched to the judges holding her blue-tongued skink (lizard). She sells NutriCubes, preportioned servings of blended ingredients for exotic animals.
The best new idea winners were Eugene Meyer and Dakota Belling for developing Bovi-Jet, an insect control applicator for large cattle herds. Belling is a senior in civil engineering and Meyer is a senior industrial engineering major. The duo showed the work students put in to improve their pitch, going from second-place finishers in the Engineering college competition to an overall winner.
Spalding praised students for the quality of their pitches and the pressure they put on the judges, who had just 40 minutes to deliberate and decide all placers.
Other finale placers were:
New idea
Second place: Tiare Takaesu, Veterinary Medicine
Third place: Aidan Bostwick, Business
Honorable mention: Lydia Dayton, Design
Honorable mention: Sidney Messerly, Liberal Arts and Sciences
Existing business
Second place: Jack Evans, Engineering
Third place: Pradyumna Dahal and Henry Shires, Liberal Arts and Sciences and Engineering
Honorable mention: Gavin Harms, Design
Honorable mention: Zackry Brannen, Business
Honorable mention: Tyler Heintz, Engineering