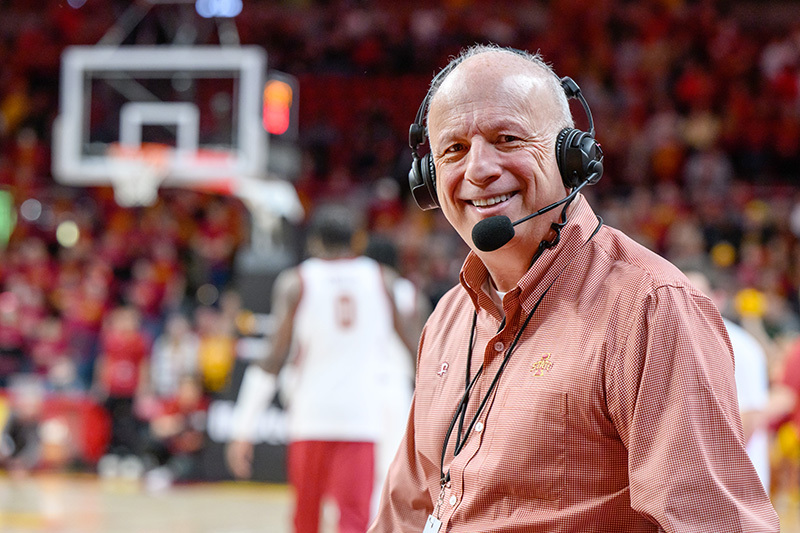 John Walters is the eyes and ears for countless Iowa State football and men's basketball fans as the voice of the Cyclones. Now, in his 20th year on the radio, Walters reflected with Inside on his professional journey, memorable moments and impactful athletes.
What got you started as a broadcaster and how did you come to Iowa State?
Growing up in suburban Chicago, I loved sports but wasn't the most talented athlete. I wanted to stay connected in some way, and I loved listening to the great broadcasters in Chicago, particularly Jim Durham, the voice of the Chicago Bulls. I went to Drake University and got a part-time job working for (former ISU play-by-play radio announcer) Pete Taylor in the sports department at KCCI-TV. When I graduated, I moved into a full-time position there and continued to do radio play-by-play. I did Drake women's games on KRNT Radio and then Drake men's games. In 1996, I became sports director at WOI-TV which allowed me the opportunity to do TV play-by-play for Iowa State. I was blessed to call those games with the great Gary Thompson. When Taylor tragically died in 2003, I stayed at WOI-TV but also became the radio voice of the Cyclones, and I'm now in my 20th year with the Cyclone Radio Network. In 2012, I left WOI to take a full-time position as the director of broadcasting at Iowa State, helping launch Cyclones.tv.
What's your favorite Cyclone sports memory?
There are so many that it's hard to name just one. But at the top of the list is the football win at Oklahoma in 2017. Kyle Kempt had thrown just two passes in his five-year collegiate career and he made his first start. Iowa State was about a 31-point underdog. Kempt found Allen Lazard for a late touchdown and Iowa State pulled the upset, which really accelerated the success Cyclone football has had in the Matt Campbell era.
Who are the memorable athletes you've interacted with during your time?
Another tough one because there have been so many great athletes -- and great people -- to come through Iowa State. Breece Hall and Brock Purdy were great examples of that. In basketball, I don't know that I've enjoyed being around a player more than Georges Niang. Georges wasn't a native Iowan, but I can promise you that he considers Iowa home. He's playing professionally for the Philadelphia 76ers, but he still comes back every summer and teams with another great Cyclone, Lyndsey Fennelly, to conduct a charity event that's raised hundreds of thousands of dollars for local charities. I also would be remiss if I didn't mention how lucky I've been to work with Eric Heft. I've been so blessed to work with three of the greatest Cyclones of all time in Taylor, Thompson and Heft.
What's changed with Cyclone sports during your 40 years of covering them?
The biggest development was the hiring of Jamie Pollard as director of athletics (September 2005). Jamie wasn't afraid to level with the fan base about its expectations and what needed to happen to help make those expectations a reality. He has hired several great coaches, and he's stayed in it for the long haul to take Iowa State athletics to new heights. He has a terrific understanding of the role athletics plays within the university structure, and he's cognizant of that when making decisions. On top of all that, he is a great listener. To me, that's the number one quality to have as a leader.
What stands out about ISU fans?
Their loyalty and their passion for Iowa State. Heft and I see it everywhere we go. Iowa State fans feel a very deep connection to the university, and they seize every opportunity to come out and support our teams. It means so much to those players to see that support, and every one of our coaches would tell you that their No. 1 selling point with recruits is the passion of Cyclone fans.