There is moving for a job, and there is what Jay Meador did.
The ISU police department was looking to hire an officer with a particular skill, one Meador spent years honing.
"I found this job online saying they were looking for a Mandarin-speaking police officer, and it really interested me even though I had never thought about being a police officer before," said Meador, who was living in Taiwan at the time. "I wanted to be in a position in a university setting where I could help facilitate change, or at least be part of it."
Prior to the addition of Meador and officer Alan Liu -- both hired since March -- the department had been without a Mandarin-speaking officer since 2018.
"When I started here, it became clear to me that this was important to our community," police chief Michael Newton said. "We have a large Mandarin-speaking population, not only on campus, but in the Ames community."
Newton said the department aims to serve the entire community, and officers who previously responded to situations with Mandarin speakers used LanguageLine or an interpreter without law enforcement background to assist. LanguageLine provides on-demand language interpretation, but Newton said officers feel trepidation about getting the correct information across when going from officer to interpreter to individual and back during an investigation.
"We want to represent our community and get a diverse group of officers who want to do the job," he said. "Having the ability to talk to people in their native language is much more personable and a better way to take care of victims or talk to a suspect."
Meador and Liu will interact with groups across campus, help with ISU Police outreach and build relationships that may be missing with Chinese-speaking faculty, staff and students. The multilingual officers also can assist law enforcement agencies in the area, if needed.
The department also utilizes officer Karime Massaro's ability to speak Spanish fluently to help with translation throughout the law enforcement community. She has assisted departments as far away as Ottumwa since joining the department.
From China to Ames
Meador, who joined the department in March and has completed his academy training, studied Mandarin as a compromise with his parents after he completed his undergraduate degree in business at Spring Arbor University in Michigan. He attended Fudan University in Shanghai, China, in 2007 to learn the language.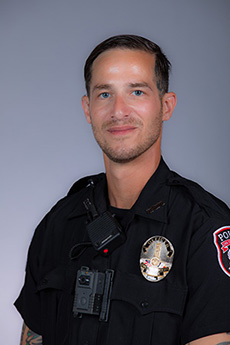 "My parents wanted me to get a master's degree in something, so I suggested I do a language study instead," said Meador, who also is learning sign language. "I really like skateboarding, and I went to Shanghai because the world's largest skatepark was just built there. It was really two birds with one stone."
After learning the basics, Meador stopped taking classes after a year and a half and became fluent by using it in his daily life over the next decade in the country. He remained in China for 12 years doing a variety of jobs -- including restaurant owner and filmmaker -- before moving to Taiwan for three years. He returned to the United States last December for his current job and believes his travels will benefit him when interacting with international groups on campus.
"The ability for me to talk to someone in Mandarin is not just about our ability to communicate, but I realize a lot about where they grew up, where they are coming from or some of the reasoning for the things they are doing," he said.
Succeeding in a new place
Lui's journey to become an officer began with his mother trying to motivate him to find a passion.
"One day she just told me I was going to the United States to study, and they had already signed me up," he said.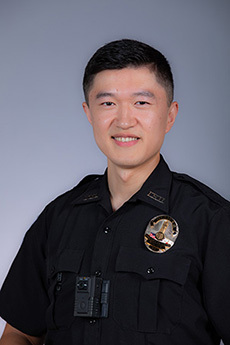 Lui lived in China until coming to America at 19. He spent the first eight months in Georgia learning English and earning his GED before attending the University of the Cumberlands in Kentucky. He graduated with a degree in accounting, but soon realized a career in law enforcement would integrate his passions of sports, martial arts and self-defense.
Lui kept tabs on the position with ISU police but needed to become a U.S. citizen before applying. That required being in the country for three years making it official in 2021. He joined the department in August and will go through academy training until December. His language skills are invaluable, but it is the responsibility to help others that most appeals to him.
"In college, I joined a lot of programs that helped the surrounding community, from building houses to educating young students about other cultures around the world," Lui said.
He also believes his efforts to learn English help when encountering someone who doesn't speak the language.
"I have been through that, and I can still deeply remember being at that stage," he said.
Serving the community
Massaro grew up in Mexico and came to the United States when she was adopted at 6 years old. She worked as a detention officer with the Story County Sheriff's Office before coming to the ISU police department in 2018.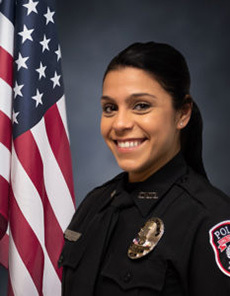 Although the need for Spanish translation on campus is not an everyday task, Massaro's skills are vital to the region when she helps Ames and surrounding departments and agencies translate, both on and off duty. She often assists the sheriff's office and the Ames Police Department with translation for situations from citations to domestic issues.
"Story County has a large population of immigration customs enforcement inmates, so I was basically the sheriff's office's liaison and did their orientation when I worked there," she said. "It is easier to connect with someone who already doesn't trust law enforcement by speaking their language."
Massaro remembers situations from her youth when people, including her mother, would avoid seeking police help because of fear of law enforcement. It is a situation she hopes to have a positive impact on with her work.
"Growing up in that mentality where people who were immigrants at one point are just terrified of the police, I want to help in any way I can to change that," she said.