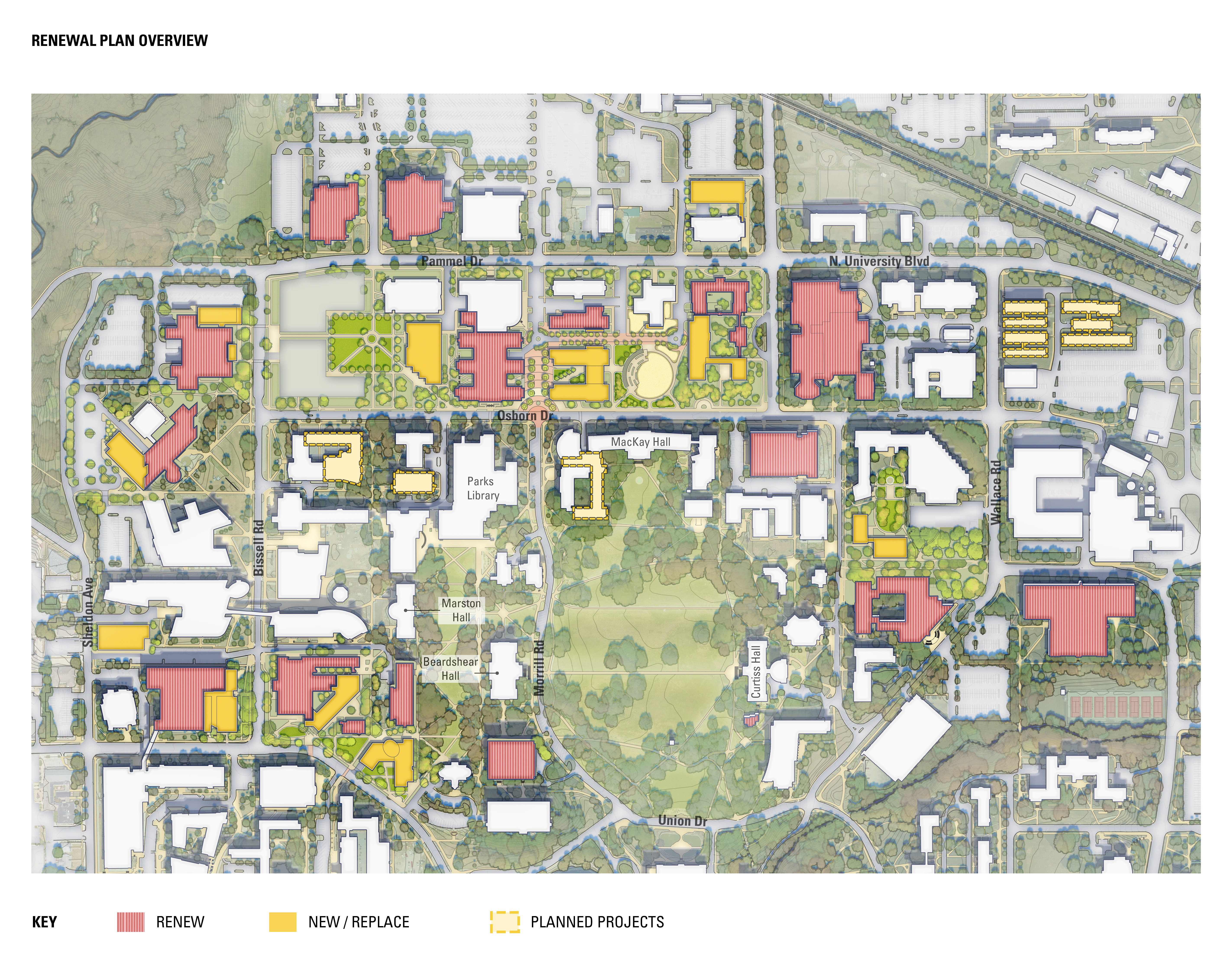 The same June day it approved Iowa State's nine-year strategic plan, the state Board of Regents signed off on a 30-year strategic facilities plan for the university. The plan is a blueprint for investing in campus buildings to offer modern, functional spaces for student learning and research success. It emphasizes renovation when possible -- and demolition/replacement when not -- and sequences numerous projects that will impact more than 40 buildings.
Over three decades, the facilities plan would modernize or replace 48% of general fund space on campus, roughly 2.3 million square feet. More than 10% of that volume is tied to projects already planned, for example, replacing LeBaron Hall and departmental research greenhouses at Wallace Road and University Boulevard, and two phases of a new veterinary diagnostic laboratory.
Campus planner Chris Strawhacker, facilities planning and management, who led the team that developed the plan, said two other goals of the strategic facilities plan are to:
Reduce Iowa State's deferred maintenance backlog, currently at about $600 million.
Minimize the net amount of new space, in part as a strategy to limit future building operations and maintenance expenses.
Strawhacker said an assessment completed early in the planning process that stacked space needs against existing inventory determined the total amount of space on campus is about right. However, ISU needs more teaching and research space and less administrative and office space. Student support and general support space (within the general fund umbrella) is about right, it found.
An investment history
Strategic facilities plan:
Succeeds a 1991 campus master plan.
Developed from planning that began in 2019 with an assessment of both the condition of buildings and building systems, as well the usefulness of spaces for student learning and research needs.
Collected ideas and input from 50+ stakeholder meetings, 1,200 survey responses and four open houses.
Assumes enrollment ranges from 30,000 to 35,000 students and the current level of university funding doesn't change significantly.
Doesn't include spaces held by auxiliary units such as dining, student residence, athletics, recreation services, alumni association or spaces home to federal units such as Ames National Laboratory or U.S. Department of Agriculture.
To implement the strategic facilities plan, Iowa State will need to invest $40 million to $45 million per year for the 30-year life of the plan, according to Paul Fuligni, assistant vice president for facilities planning and management and a member of the strategic facilities plan team. That's not as unlikely as it might sound. For the past 10 years, on renewal projects like Marston Hall or new facilities such as Elings, Troxel, Advanced Teaching and Research Building and the Student Innovation Center, Iowa State has invested about $60 million per year in general fund facilities.
"This university has sustained this level of capital spending for years," Fuligni said.
A summary: Four plans within the plan
The strategic facilities plan contains four focus areas, and projects from the four may occur simultaneously. The central campus map (above) illustrates many of the proposals in these four plans:
STEM facilities in the north central area of campus, organized into three stages: physical and material sciences, plant sciences, and human sciences and psychology. Over three decades, the plan would renovate, replace or add buildings -- many along Osborn Drive -- to provide modern laboratory and classroom spaces for the sciences.
Four college-specific plans for Engineering, Design, Veterinary Medicine and Agriculture and Life Sciences. Key changes include additions to Town, Black and Design buildings; the approved new Therkildsen building for the industrial and manufacturing systems engineering department; renovations of Town, Black, Design, Communications, Kildee, Forker and Vet Med buildings; and demolition of the Armory and nine small buildings at the Vet Med Research Institute.
Interdisciplinary hubs for instruction (Carver Hall) and communications (new facility). Key impacts include renovations of Lab of Mechanics, Pearson, Carver and Food Sciences buildings; demolition of several inefficient, outdated buildings; and a new interdisciplinary communications facility for programs in the colleges of Agriculture and Life Sciences and Liberal Arts and Sciences.
Larger spaces for student services and student health and wellness. Over 30 years, key changes include renovation of Sloss House and Beyer Hall, a larger facility to replace the Student Services Building, and an east addition to Beyer shared by student health, counseling and wellness services. A vacant Thielen building would become available for other uses.
The plan provides a framework for reinvesting in facilities. Additional planning, design and approvals will be required to implement the projects proposed in each focus area.