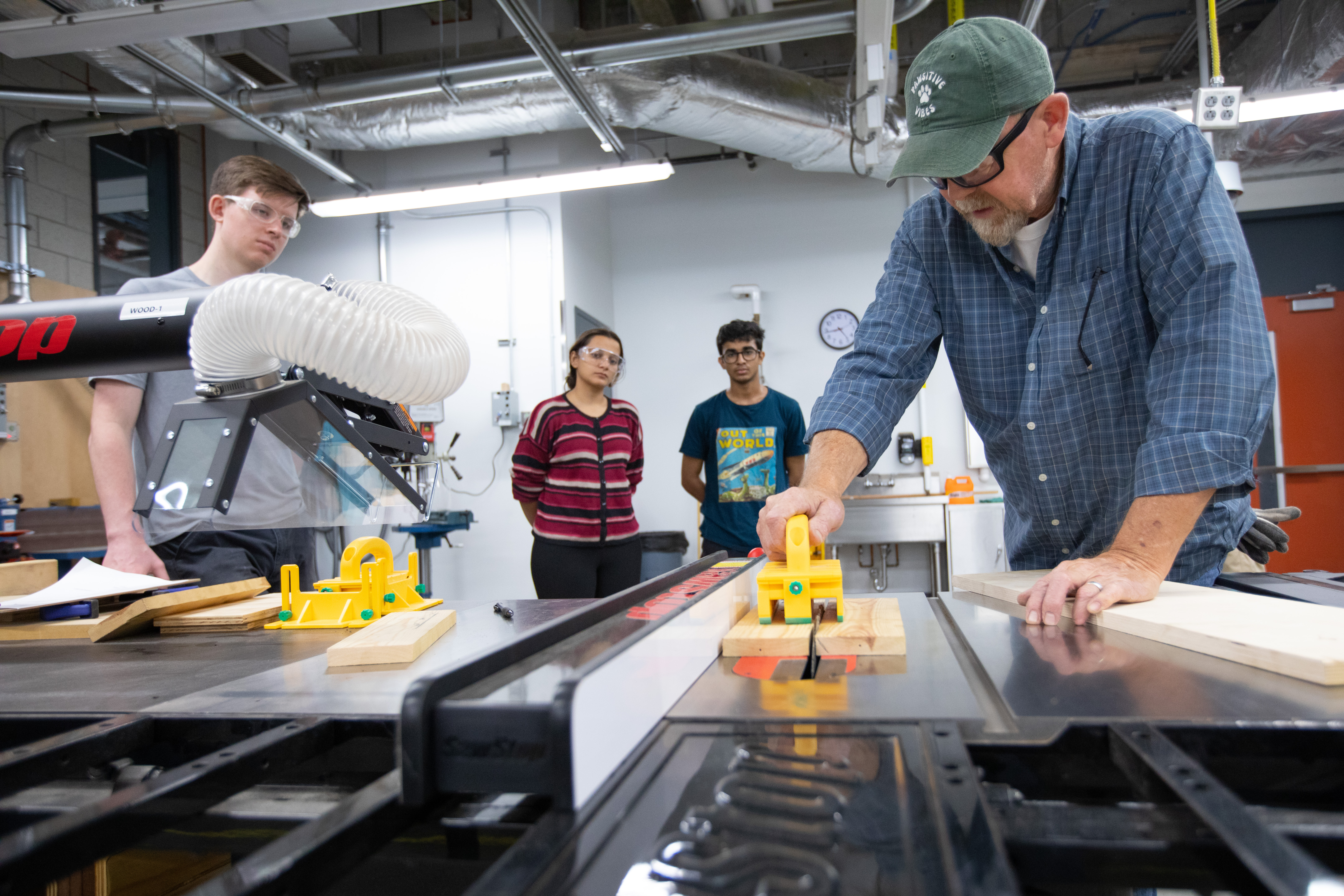 The Student Innovation Center's makerspaces -- studios, shops and labs designed for students, faculty and staff to create and collaborate -- are fully operating this fall for the first time since the center opened in 2020, providing the tools and training to turn innovative ideas into concrete reality.
The Student Innovation Center's open house Sept. 1 (4-6 p.m.) will mark the debut of the makerspaces. The event will feature makerspace demonstrations along with giveaways, displays and activities throughout the building's five floors to promote the opportunities colleges and student organizations offer at the center.
The makerspaces include:
The makerspaces are available to faculty and staff to encourage collaboration and interdisciplinary connections, said building services manager Jacob Cantu, who supervises makerspace operations. Experience level doesn't matter, and all Cyclones are welcome.
"The primary focus is students, but this is definitely a resource for faculty and staff, too," he said. "We want these spaces to be used, and the possibilities in these spaces are endless."
Hands-on innovation
Opening the full suite of makerspaces was more than two years in the making, for a variety of reasons. Now that they are fully open, it will be exciting to see what's made there, said Wendy Kisch, Student Innovation Center director of operations.
"We hope to engage all students in creative thinking and expand their innovation capacity through hands-on learning in the makerspaces," she said. "They are for all students in all majors, and they give all students opportunities to create, experiment and innovate in a variety of ways."
Safety and supervision are vital in the makerspaces, so training is required before using them. To sign up, fill out the form on the makerspace webpage. Users are added to a Canvas course to complete an online training session and take a short quiz on safety protocols. That's followed by in-person individualized training with shop supervisors.
All training materials are provided at no cost. After that, users must provide their own project materials. Users are not charged for machine time, training or consultation.
Once fully trained, students, faculty and staff can use equipment for personal or class projects. Users cannot operate a business out of the makerspaces. Professors are welcome to bring their classes into the shop for group training, but regular classes cannot be held or conducted in the space. The shop will remain open for others to use if a class is training in a space.
The Student Innovation Center is open during fall semester weekdays at 7:30 a.m. on weekdays and 9 a.m. on weekends. It closes at 2 a.m. Sunday through Thursday and 8 p.m. on weekend nights. Makerspaces will be open daily 9 a.m.-8 p.m.
Unique spaces
The makerspaces aren't the only areas of the Student Innovation Center devoted to creation and invention. The Gaffer's Guild student organization operates a glassblowing studio on the first floor, and various other student organizations use a lower-level assembly bay to build. There are specialized college-run spaces, such as the College of Human Sciences' culinary lab on the third floor and the College of Design's first-floor print-making room. And the center has many reservable collaboration spaces and general university classrooms.
Also, there are some facilities similar to the makerspaces in buildings across campus. But those are typically associated with classes, lab work or other academic activities. The Student Innovation Center's makerspaces are unique because they are for everyone on campus, offering the capability to create to all students, faculty and staff willing to step outside of their box and make an impact.
"The Student Innovation Center is the place to create for clubs, inventors, entrepreneurs, hobbyists and the generally curious," said James Oliver, Pithan Executive Director of Innovation. "Our friendly shop staff is ready to provide training to one and all, so I hope to see these wonderful resources filled with Cyclones from every corner of campus."
The spaces are made to grow and change over time. Cantu said future programming in the spaces could include demonstrating project examples, which would pair well with selling kits with the needed supplies. Partnerships with external nonprofits, businesses and other organizations could be possible. To stay true to their aim, the spaces need to remain flexible and adapt as needed, Cantu said.
"We want to make sure the equipment in the space is what people want, and that the structure is working. There's going to be constant change," he said.