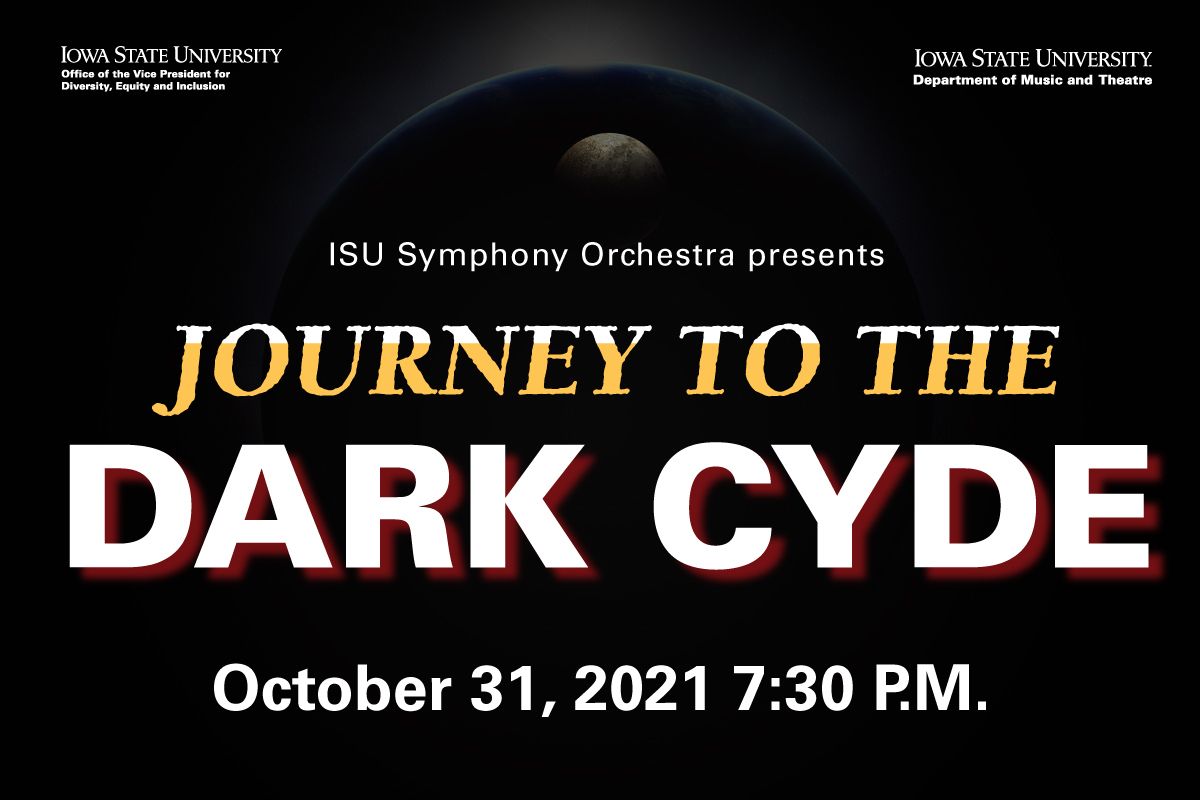 The ISU Symphony Orchestra will present a program that's fun for the whole family, playfully bringing together Halloween spirit and the hallowed sounds of popular movie soundtracks during its Oct. 31 concert "Journey to the Dark Cyde" in Stephens Auditorium. It begins at 7:30 p.m.

The concert will feature movie soundtracks from award-winning films and box office hits such as "Star Wars," "Star Trek," "Pirates of the Caribbean" and "Crouching Tiger, Hidden Dragon," with a cello concerto featuring cello soloist George Work, an ISU music professor.

If the mention of "Star Wars" makes you feel like bringing your favorite little one in a Baby Yoda costume, you're in luck. Part of the evening's fun for children and adults includes a communitywide costume contest.

Tickets are $10 for adults and $5 for children and are available through the Stephens Auditorium Ticket Office.
"COV-stume" contest encourages masks, creativity
Jonathan Govias, conductor of the ISU Symphony Orchestra and director of orchestral activities, said students came up with the costume idea when they learned the fall concert was scheduled for Oct. 31.

"They asked if they could wear costumes and I said, 'If we're going to wear costumes, we need to do it with a little more purpose than just wearing costumes,'" Govias said. "And that's where the idea of what we're calling the, forgive me, COV-stume contest was born."

The contest aims to take an element of the COVID-19 pandemic that has been burdensome at times -- mask wearing -- and give it a celebratory and fun feel, Govias said.

"We want to encourage people to wear a mask and the costume component is to show us how creatively you can integrate a mask into your Halloween get-up," Govias said. "Some of our musicians will be onstage in costume. The idea is just to have a good time, play some music and try to make some lemonade out of all the lemons we've been handed in the last year."
A communitywide event
While the symphony orchestra performed in 2020, with physically-distanced concerts in Howe Hall, operating as a smaller orchestra limited the musical selections. Govias said students are excited about the concert's movie soundtrack theme.
"Our students' ambition is to perform energetic and exciting music in front of crowds, and they were performing small orchestra music in front of very small crowds last year," Govias said. "The payoff was just never there. The programming for this concert was my desire to give our students something they could really get their teeth into and would just be a whole lot of fun."

Both the concert and costume contest are open to the public. The symphony orchestra selected Stephens Auditorium as the venue to allow for physically-distanced seating arrangements.
"We want to make this a communitywide initiative," Govias said. "The intention is that families can go trick-or-treating and then come to the concert. It's an hourlong show so they can be home on time for a school night."

In support of his students, Govias also plans to wear a costume, though he said it will be low-key.

"I'm keeping it a secret," he joked. "It won't just be me wearing a tailcoat suit as a penguin."

To enter the costume competition, participants can post a photo of their costume on Instagram with the hashtag #cov_stume and tag the @isusymphony Instagram account. Contest categories include Greek societies, residence floors or blocks, university clubs, university intramural or athletics teams, family and individual. Prizes for each division have been donated by university and community partners.